Get green news right to your inbox!
Thanks for signing up!
France is making a strong statement on the use of traditional vehicles in the future. The country is planning to put a ban on all diesel and gas vehicles by 2040, becoming the fifth country to announce an ambitious goal. It's all part of a process to make the entire country carbon neutral by 2050.
Environmental minister Nicolas Hulot announced France will be taking at a press conference on Thursday. The country also plans to stop using fossil fuels by 2022 under a five-year plan. Nearly 4 billion euros (over $4.5 billion US) will be used to upgrade renewable energy efficiency.
Paris could be seeing a ban on traditional vehicles much sooner. Mayor Anne Hidalgo wanted to eliminate use of diesel cars in France's capital setting a year of 2020 as a goal. France has the most vehicles running on diesel in Europe due to it being cheaper than petrol, but there's been discounts and rewards given to those who opt for an alternative.
Hulot gave examples of others setting similar goals. Volvo will no longer be producing vehicles that exclusively have an internal combustion engine . They will be working on five fully electric vehicles while the rest will be various forms of hybrids. He also noted India's push to have only EVs . Germany is another country hoping to get rid of traditional cars by then; Norway and the Netherlands are anticipating it five years earlier.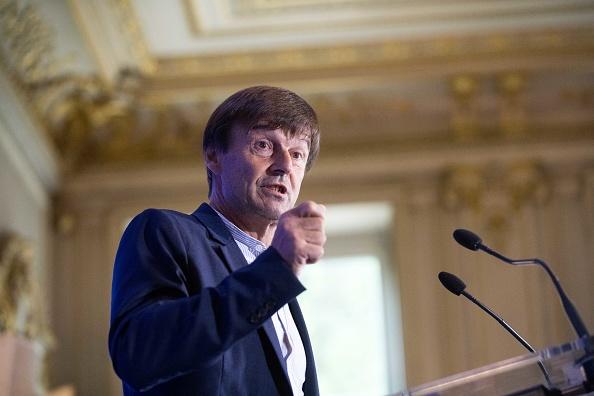 While the proposals were ambitious and promising, some are waiting for more details on how France will exactly achieve these goals. Greenpeace campaigner Cyrille Cormier is one of those skeptics. In a from Reuters, Cormier didn't believe there was enough evidence at the press conference to be satisfied.
"The goal to end the sale of gasoline and diesel vehicles by 2040 sends out a strong signal, but we would really like to know what are the first steps achieve this, and how to make this ambition something other than a disappointment."
What does all this mean for car manufacturers in France? After all, over 95 percent of new cars released in the country this year have been diesel and gasoline vehicles. Based on an Associated Press , PSA Group was already planning to partition 80 percent of its production with hybrid and electric cars by 2023 and they will be making traditional cars for other parts of the world.
According to The Independent, the French Parliament will later this year that "would ban all new exploitation permits for petrol, natural gas and coal." ClientEarth CEO James Thornton also had a more positive tone than Greenpeace, saying that this announcement by France was a "huge statement of intent."
"Coming hot on the heels of Volvo's announcement yesterday, the outlook for the internal combustion engine is bleak. This is now clearly the direction of travel and industry players who are not on board will find themselves struggling before long."
More From Green Matters
.

Technology

The green fuel is safer, more eco-friendly, energy efficient, and affordable.

.

Food

Lab-grown meat and plant-based meat are on the rise.

.

Community

The summit will take place in mid-July.