U.S. Solar Capacity Increases Despite Forecasts Showing Installation Decline
More people are installing solar in the United States despite gloomy outlooks for solar.
For well over a year, the United States' solar industry continues to grow at a consistent and rapid pace. A reveals that the country has added over two gigawatts of capacity in the first three months of 2017. That's the sixth consecutive quarter that we've seen growth by that margin, and that's despite the expected downturn of installations throughout this year..
Article continues below advertisement
Solar energy was the second-most installed renewable source through the first quarter of this year, checking in at a 30 percent rate. It's second only to natural gas (41 percent) in that time frame. Minnesota, Idaho, and Indiana were states that saw a big jump in solar panel installations while other states like Texas and Utah continued to stay on pace.
Abigail Ross Hopper, President of Solar Energy Industries Association, : "Solar is delivering more clean energy, adding jobs 17 times faster than the U.S. economy and creating tens of billions of dollars in investment. With its cost-competitiveness, we know solar will continue to play a growing role in America's energy portfolio."
Article continues below advertisement
Installation of these photovoltaic systems are significantly lower when compared to the last half of 2016. That's mostly due to the utility-scale systems being rushed to completion with the Investment Tax Credit formerly set to expire at the end of the year. It was extended, meaning that there could be some slowdown with installations coming.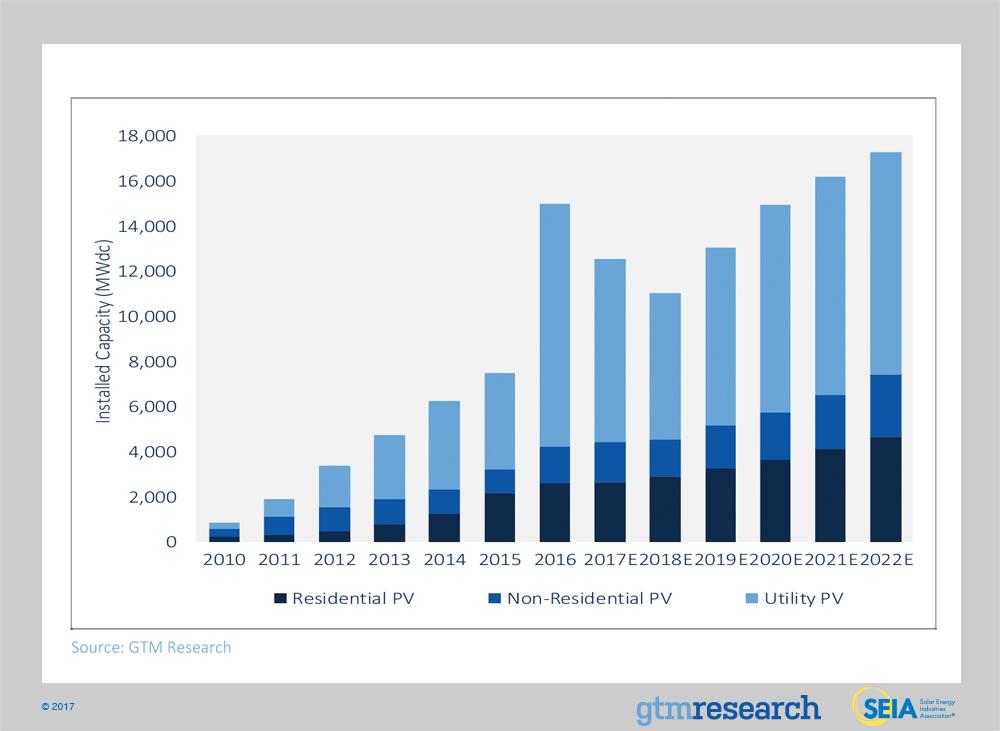 Article continues below advertisement
California remains the gold standard in solar energy, but it has scaled back in their share of the market. in part due to geographical restrictions and companies slowing down the signup process. It's expected that it will continue to fall and it will end over 10 years of increases for the state.
While forecasts show that installations will be down by nearly 13 gigawatts compared to the end of 2016, that will be more a balancing act and won't indicate that the industry is dying. In fact, the report suggests that over 18 gigawatts will be installed annually and capacity will be tripled by 2022.
Article continues below advertisement
Another hurdle that will need to be passed is Suniva's petition to place tariffs on imported solar technology. The now-bankrupt solar panel maker was hurt by the decreasing costs of photovoltaic systems. The SEIA has come out and , saying that it would "endanger the livelihoods of the 260,000 American solar workers and their families." Indeed, there would be significant forecast changes should a tax be placed on importing solar energy material.
Problems could be on the horizon for the growing renewable energy, but it's still trending in the right direction. Utility-scale installations will continue to lead the way, and residential input in five years could reach over four gigawatts on an annual basis.