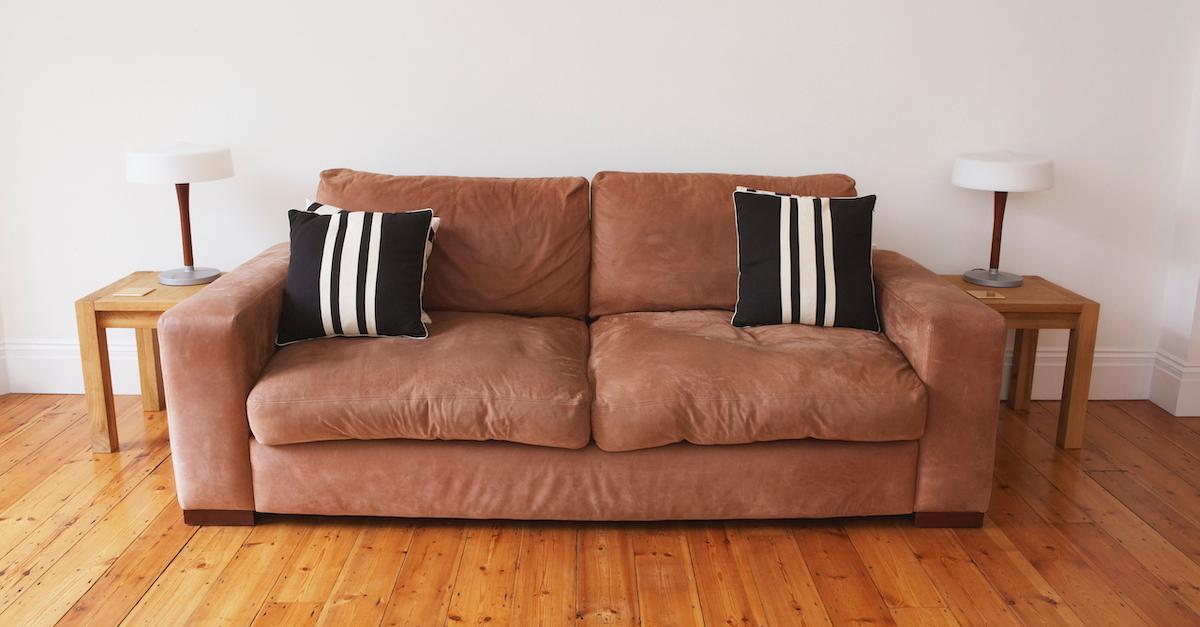 Change the ~Look~ Of Your Living Space by Upcycling and Re-Styling Your Couch
Whether you recently moved into a new home, or if you're looking to change up the look of your living space, you may be thinking about replacing your couch. But after scanning the web for something new, or taking a trip to the shops, you'll soon start to realize just how expensive buying a couch is. And what's more, if your couch is in good shape, there's no point in giving it up.
Instead, you may want to consider upcycling it — but how does one upcycle a couch?
Article continues below advertisement
From adding a collection of thrifted throw pillows, to making your own quilt from scratch, there are so many crafty ways you can transform the look of your beloved sofa. But since it tends to be the focal point of your living space, it's crucial that you like how it looks.
So, let's get started on fixing it up as soon as possible, so you can fall in love with your couch all over again.
Thrift some new pillows.
Although some are on the fence about thrifting upholstery, you can ensure anything you buy is free of "critters" by tossing it in the dryer. If that isn't an option because of the material, leave them in a vacuum-sealed bag.
Antique stores and thrift stores are likely to have some pretty cool vintage couch pillows in store, though, so once you've done what you need to do to ensure they're clean, you'll love how they change the look of your living room.
Article continues below advertisement
Make a quilt.
Even though it sounds incredibly difficult, making a quilt really isn't that complicated.
Find a bunch of different fabrics you like — you can even find scraps at certain thrift or craft stores — and decide on a pattern you like, so you can cut them into shapes. Then, you can either hand-sew or use a sewing machine to stitch them all together. Making your quilt is much more time consuming than difficult, but once you're finished, you'll feel beyond accomplished (and comfy!).
Article continues below advertisement
Buy a slipcover.
There are so many cool slipcovers that will completely transform your couch. Pick a funky pattern, an accent color, something more neutral, or even something with a totally different texture. Companies like The Couch Cover sell couch covers that come in a wide range of colors, patterns, sizes, and materials.
Article continues below advertisement
Find some cool afghans or throw blankets.
There are so many cool throw blankets and afghans out there that are sustainably made, and will change the vibe of your living space depending on what you get. The brand featured above, for example, is called Throw & Co. — the Seattle-based company makes cotton throw blankets by hand, in a wide range of unique designs and colors.
Article continues below advertisement
Happy Earth Apparel is another eco-friendly brand — aside from making sustainable loungewear, beanies, and T-shirts, the company also makes a wide range of throw blankets from all sustainable materials. The packaging the company uses to ship your products is made from 100 percent recycled plastic.
Article continues below advertisement
Give your couch a nice deep clean.
Finding a couch vacuum you really love is key to falling in love with your sofa all over again — because if you haven't cleaned your couch in a while — it can make a huge difference. BISSELL, which is the Animal Planet Puppy Bowl's annual sponsor, makes a wide range of handheld couch vacuums, that will clean up any sofa inundated with dirt, pet hair, and beyond.
Article continues below advertisement
Dyson is another brand that carriers several options perfect for cleaning your couch. Do your research and consider trying out a few, before committing to one. Depending on what generally dirties your couch, you may want to opt for something specific.
But in the end, a clean couch makes for a completely different lounging experience.
Article continues below advertisement
Thrift a new couch, if it comes down to it.
If you simply cannot stand the sight of your couch, selling it — and thrifting a new one — is an option. Again, buying a couch secondhand can be risky, in terms of bringing pests into your home, but once you're sure it's clean, it may ultimately be the right decision, to achieve the interior ~lewk~ you've been looking for.