Can Tiny Homes Solve Homelessness?
Neighborhoods made up of tiny homes could help with the homelessness crisis, some people believe.
Tiny homes are a sustainable alternative to cavernous houses with sprawling bedrooms and kitchens. They're also a "stupid" trend, adopted by hipster couples looking to get on television. Tiny homes are freeing. They're expensive. They're minimalist. They're inaccessible.
Article continues below advertisement
Tiny homes are a miracle or a nuisance, depending on who you ask. But a select group of nonprofits and public officials believe they're something else entirely: a solution to homelessness.
Since the 2000s, tiny home communities designed exclusively for homeless people have been gaining traction in American cities. The West Coast hosted many of the early adopters. In 2004, Dignity Village opened on a permanent site in Portland, promising self-built shelter for 60 people per night. It was formerly a tent camp. So was Quixote Village, a 30-home community that opened on Christmas Eve in Olympia, Washington in 2013.
Article continues below advertisement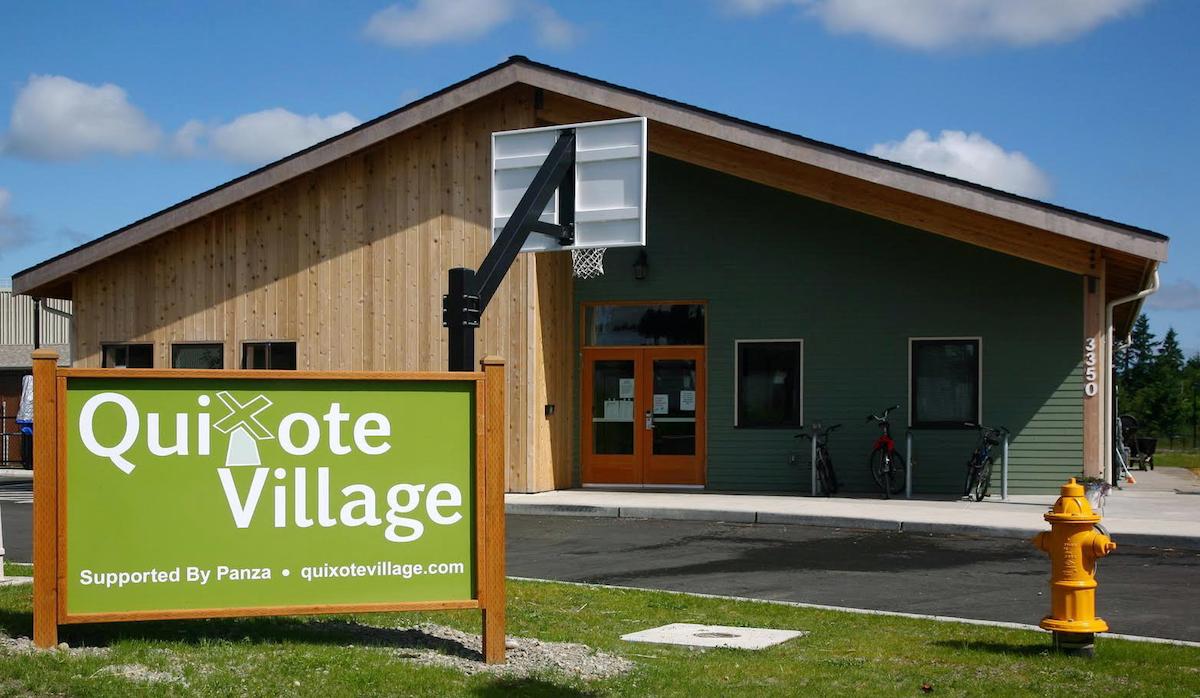 Dallas has The Cottages at Hickory Crossing, a cluster of 50 tiny homes for the chronically homeless population. Cass Community Social Services has built seven tiny homes in Detroit, with an ultimate goal of 25. The Village at Glencliff, a planned community of 22 micro homes, is coming to Nashville, which already has a similar, albeit smaller, community in Infinity Village. Veterans Community Project just opened a tiny home community in Kansas City, Missouri earlier this year, one with 13 houses for homeless veterans and another 37 units (plus a community center) on the way.
Article continues below advertisement
Some government officials are spearheading these villages. Later this year, San Jose plans to open a tiny home community for homeless residents, one that, the city hopes, will serve as the pilot program for many more villages.
"Tiny homes are a really great model and a great solution to this housing crisis we have," says Bryan Meyer, a co-founder of the Veterans Community Project, during a phone interview with Green Matters. "Land is always an issue, especially in big cities, and a tiny home provides everything that you need, in a more compact, affordable [format.] It's just more feasible than building a bunch of large buildings."
Article continues below advertisement
Most villages follow the same basic structure. Homeless individuals apply for a tiny home and, if accepted, pay little to no monthly rent. Their new house can run anywhere between 60 and 400 square feet. The units usually have a bed, a desk, and a few other basic pieces of furniture. They'll include a bathroom with a toilet and sink. Many villages house the showers — as well as the kitchens, washing machines, and general rec rooms — in a larger community building.
Article continues below advertisement
The staff might bring in writing instructors, yoga teachers, or barbers to provide free haircuts. These staffs are often small, but almost always includes a case manager, who works with the residents to hit professional and personal goals. Case management is crucial, since the ultimate goal is usually to get each person out of the village. Many tiny home communities are conceived as short-term housing, though few serve eviction notices if residents end up staying a little longer. In Quixote Village, for instance, the turnaround now averages two years.
This particular housing model comes with unique advantages. One of the biggest is sustainability. Transitional communities like these, if constructed properly, can potentially house hundreds, or even thousands, of people over several decades. It's a benefit that advocates frequently use to justify the longer construction timelines. "I think that is green and sustainable, because we're able to reutilize these resources," Jacky Morales-Ferrand, director of housing for the City of San Jose, explains during a phone interview with Green Matters. "We're not having to build them again."
Article continues below advertisement
But the concept of sustainability can extend further than that. Quixote Village features a community garden, where residents can grow their own produce. When they have surpluses, they donate those crops to local food banks. Sean McGrady, the executive director of Panza, which built Quixote Village, says sustainability is something that's been on his mind as his organization plans new communities in Orting and Shelton, Washington.
Article continues below advertisement
"We are very interested in, as we keep building villages, the next ones being just amazing in terms of sustainability, from solar panels to larger gardens," he says. "We have an opportunity to demonstrate that we're just getting started. There's so much you can do with this model."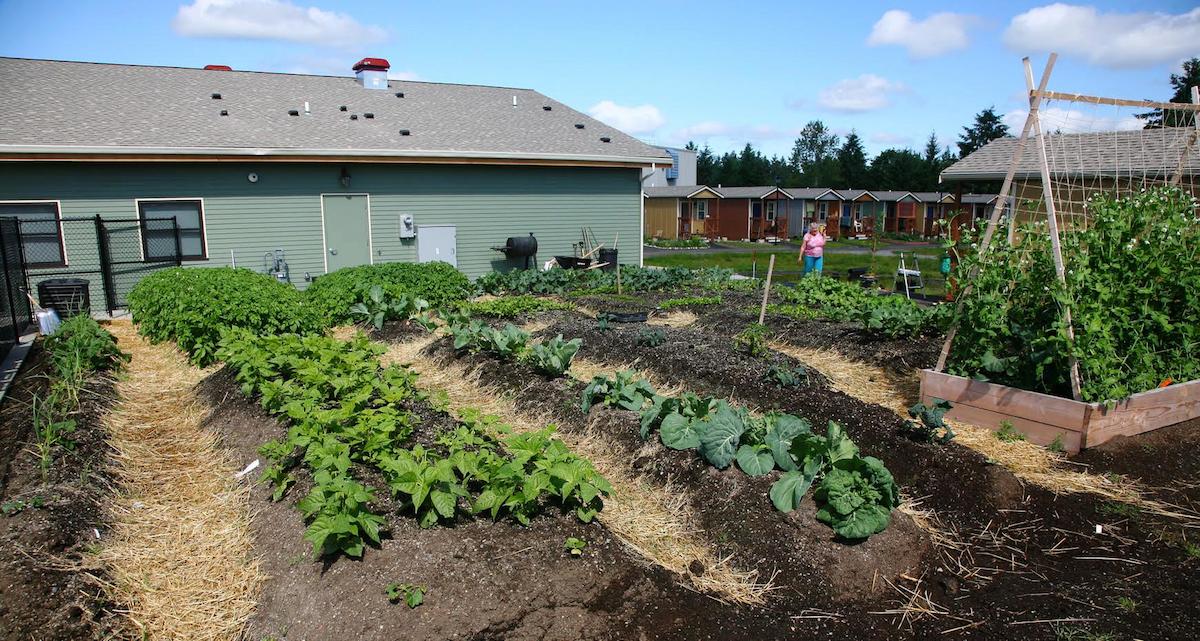 Article continues below advertisement
The biggest sticking point with tiny home village tends to be the cost. Critics find it tough to swallow the multi-million price tags on these communities, which usually feature just a few dozen small dwellings. Quixote Village, for example, cost $3.1 million to construct. San Jose has budgeted $2.3 million for its planned community.
But since tiny homes cost as little as $20,000 to build, where does all this money go? McGrady points to stormwater drainage, sewage, and the construction of the community building as the bulk of Quixote Village's budget. He also notes that projects like his must pay mechanics and builders prevailing wage, since any project that uses state or federal funds falls under the Davis-Bacon Act. (Quixote Village received a $1.5 million allocation from the state as well as a $700,000 community development block grant.)
Article continues below advertisement
Despite these large numbers, McGrady insists tiny home villages are cost-effective, since they can be reused for multiple tenants over multiple years. "There's a lot of villages that are virtual toolsheds," he says. "This is not that. These are permanent houses meant to last a long time."
Article continues below advertisement
Many tiny home village also run into zoning problems. When it came to building the Veterans Community Project development in Kansas City, Meyer says one of the first meetings he took was with the mayor and city council — essentially to ask them to change the rules. They were supportive, but other areas are less accommodating. And even if the local councils are receptive to tiny home villages, their constituents might be another story. Morales-Ferrand says she's encountered hostility from San Jose residents during her search for the pilot village site.
"We have found that some council districts are more compassionate," she says. "They have homeless people in them already and they see this as a better solution than having homeless people live on the street. Then there are other districts where homelessness is not as visible, and it is very threatening to them… when I listen to what people are saying, the underlying concern is I'm afraid of these people, and I'm also afraid you're going to attract more of these people. And it's really these people. It's not people in my community. They are different than me."
Article continues below advertisement
Community is the unifying theme of all these tiny home villages. It's why so many are centered on a communal building, and it's why organizations like Panza and Veterans Community Project fight so passionately for them. According to the people who've built and managed these villages, the sense of community helps so many of their residents — many of whom suffer from PTSD or are survivors of domestic violence — heal.
"When you give people a safe place to call home, good things just start to happen," says McGrady. "It's hard for people to imagine, but when someone comes off the street, their sense of safety is just not there. Even just to be in a room where they can lock a door, and feel protected. You start with that and then…. the human interaction, that is talking with neighbors, and neighbors looking out for you. One of the things we've seen the last two years in Quixote is a lot of folks as they get spiritually healed and are doing better, going back to college, getting jobs, or just being safe in their homes, get reconnected to lost family. We see a lot of children and grandchildren at the village on the weekends."
Article continues below advertisement
McGrady hopes to see similar results in Panza's next two projects, both of which are designed for homeless veterans. But he has bigger ambitions for the future. In addition to building more communities, he hopes to "light a fire under private development," in order to get villages built for low-income residents who are not yet homeless but vulnerable. Tiny homes, he believes, are not just a solution to homelessness but a means to prevent it.
Article continues below advertisement
Meyer is excited to bring the Veterans Community Project to new cities in 2018. The group is currently working on a village in Nashville, and has identified three other cities for potential projects this year. (Although he couldn't disclose two of them, Meyer says one target is the greater St. Louis area.) "We actually catalog it, how many requests we receive from an organization to us," he says. "We've received well over 600 requests just within the last year. So we're actively trying to grow and we hope that we'll continue to start springing up in cities all across the United States."
Morales-Ferrand, meanwhile, hopes the San Jose project will prove the pilot program is worth replicating across San Jose. But she also hopes it will shatter some long-held stereotypes. "Our builder is going to be Habitat for Humanity," she says. "And I would really love to envision homeless people constructing with their soon to be neighbors. That on these sites, we begin to confront our own stereotypes. It seems like we're so polarized right now, even on this issue. People have a human connection and if they can actually meet someone who's homeless and can talk to them about their experience, we can overcome some of the fear."