This 3D Printed House Can Be Built In Less Than 48 Hours
ICON and New Story are developing a 3D printer that can build an entire house,.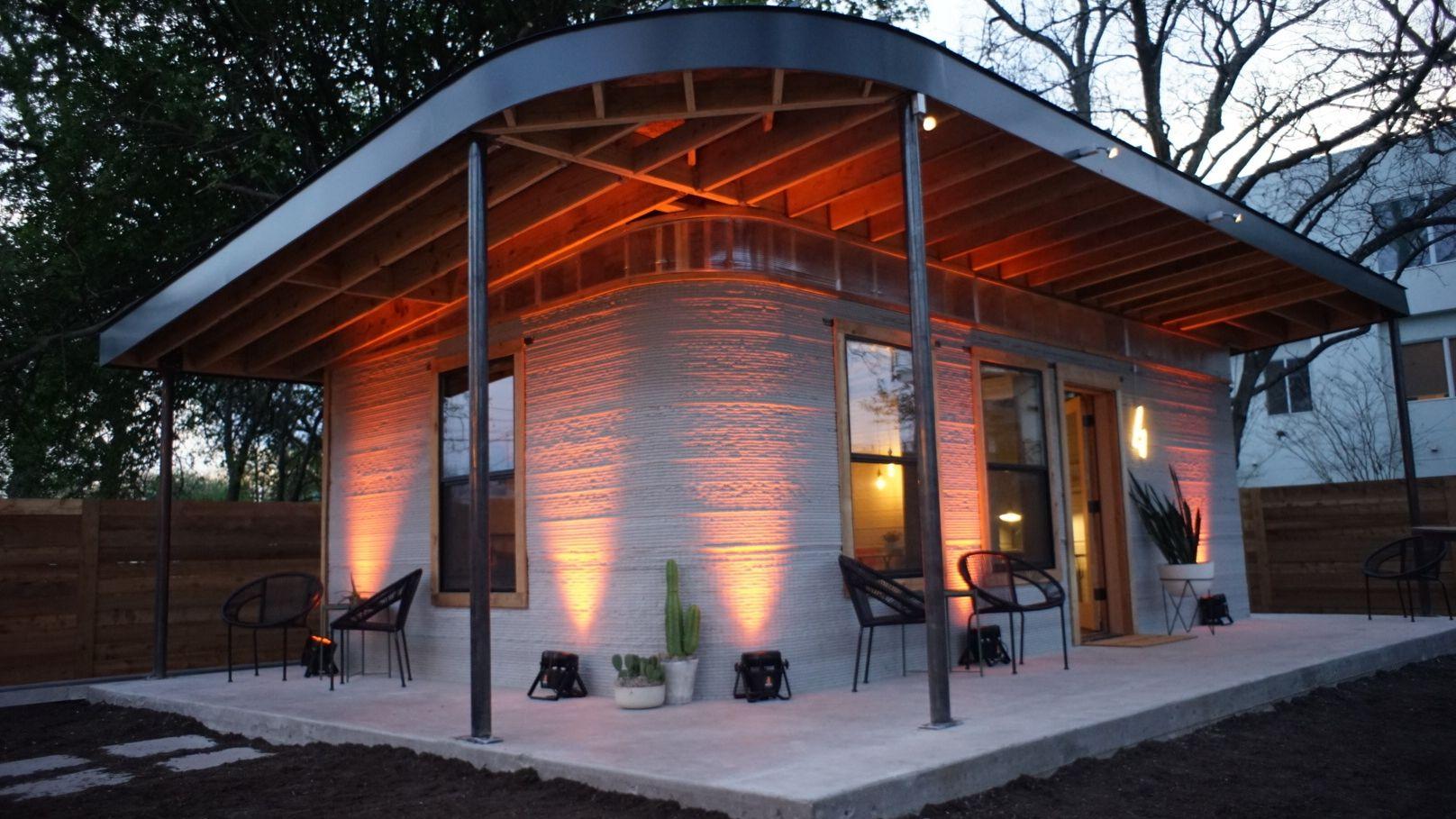 Jason Ballard, the co-founder and president of Austin's green home improvement store TreeHouse, unveiled his next project at SXSW this week: ICON is a project in collaboration with New Story, a nonprofit that works to build safe living spaces in the developing world. ICON is providing the means to do that at speed, by introducing a 3D printer called the Vulcan that creates concrete, building-code standard homes in just days at a fraction of the cost of traditional building methods.
Article continues below advertisement
The Vulcan is still in development. At the moment it can produce a 350 square feet house in about 48 hours. New Story and ICON are working on the printer with a goal is to make 600-800 square foot homes in less than a day. The model for this space includes a living room, bedroom, bathroom, and a curved porch. When they can reliably do that at a price point of $4,000 per unit, they'll be moving the printer to El Salvador. Their projected goal is to get there within the next 18 months. The hope is that a printer of this size will speed up the process of housing people with far less waste and a higher quality of structure.
"Conventional construction methods have many baked-in drawbacks and problems that we've taken for granted for so long that we forgot how to imagine any alternative," said Ballard. "With 3D printing, you not only have a continuous thermal envelope, high thermal mass, and near zero-waste, but you also have speed, a much broader design palette, next-level resiliency, and the possibility of a quantum leap in affordability. This isn't 10% better, it's 10 times better."
Article continues below advertisement
New Story already has experience working with underserved communities struggling to find adequate housing. They've raised funding more than 1,400 homes, and built more than 850 of them in Haiti, El Salvador, Bolivia, and Mexico, using more conventional building methods. The Vulcan is an opportunity to increase production at much lower cost. Brett Hagler, New Story's CEO, said in the company's press release that it was the innovation of the printer that made it seem like the next big thing for their company.
Article continues below advertisement
"We feel it's our responsibility to challenge traditional methods. Linear methods will never reach the billion+ people who need safe homes. Challenging our assumptions, iterating based on data, and taking calculated risks on innovative ideas will allow us to reach more families with the best possible solutions, exponentially faster," he explained.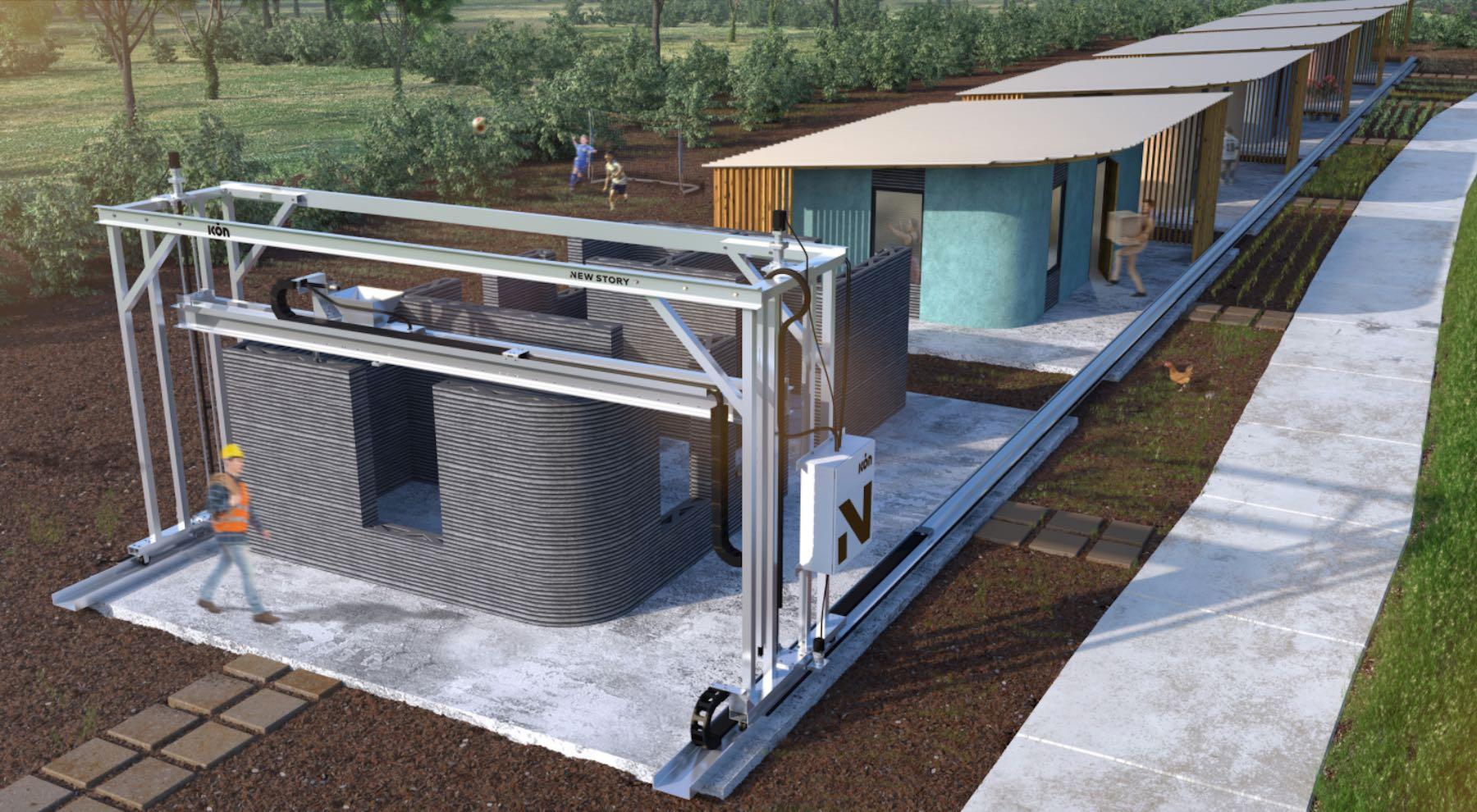 Article continues below advertisement
While the Vulcan has been conceptualized as a solution to housing shortages, it could easily be used to build in other locales, and the creators are already envisioning some possibilities. The printer could easily be adjusted to make customized houses, or if they're thinking far off in the future, even "space habitats."
In an email to Green Matters, Ballard wrote that there are already orders being vetted for upscale housing unites in Texas. He adds, "I am also personally involved in a team working on the NASA 3D printed habitat challenge and we are beginning the early explorations for design in space."
He also said that the company is overseeing all the installation processes—since the building is site-printed, there's literally no assembly required. But the in the future as the production lines scales up, ICON is considering how else the process could benefit the community, suggesting jobs could be created for "systems operators, maintenance, software, etc."
And though the building is literally printed in place, he writes, "The finishes of the home including roof, windows, doors, paint, electric, etc still rely on traditional trades."
When asked if he would live in one, Ballard replied it's not a matter of if, but when.
"Absolutely," he wrote. "I will be making this first home printed in Austin an office to really get he know the environment and learn from findings. And it's not 'will I' but 'when will I' live in a 3D printed home."