These Lollipops Come With Seeds To Grow Herbs And Flowers
Amborella Organics lollipops combine extracts of fruits and herbs, use natural dyes, and the stick is made from recycled paper and heirloom seeds.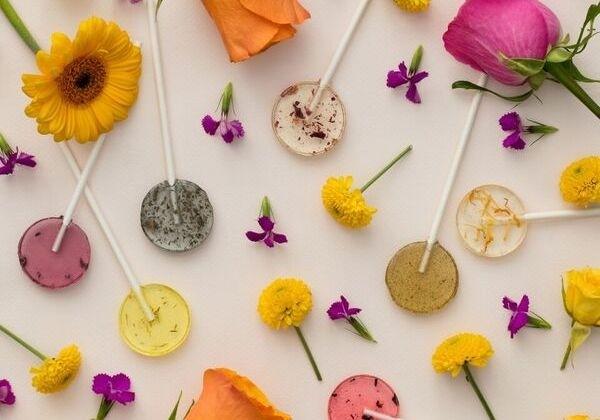 Candy sales in the United States are expected to reach over $38 billion by 2020. As cravings for sugar surge, so does the demand for more naturally sourced sweets. California based company Amborella Organics has created a lollipop that is both sweet and sustainable.
Article continues below advertisement
As their name implies, Amborella Organics specializes in organic ingredients. The company has given classic lollipops a new look. These candies combine extracts of fruits and herbs to create a natural lollipop. The foundation of each lollipop usually entails basic ingredients like pure cane sugar, beet sugar, and water. Flavors are created by adding bits of edible plants like roses, sage, rosemary, lavender, lemongrass, hibiscus, and marigold. For color, the team adds a dash of natural dyes from foods like turmeric and carrots.
Article continues below advertisement
The result is a GMO-free organic candy. Many kids with allergies can also get their hands on these lollipops since they don't have dairy, nuts, soy, or gluten. As with most natural products, the shelf life of these lollipops is generally shorter than other candies and needs to be maintained in the right conditions.
Apart from their organic ingredients, what makes this candy unique is what is hidden inside the lollipop's stick. Each stick is made from recycled paper and has heirloom seeds wrapped inside. Once the stick is planted horizontally and watered daily, the paper decomposes, and the seeds grow herbs or flowers. The only downside is that the sticks can't get too wet before being planted or they may begin to germinate too early.
Article continues below advertisement
So what exactly sprouts from these seeds? The plants correspond to the flavor of the lollipop and can grow herbs. For example, the flavor "Lavender and Lemongrass" grows lavender while "Rosemary and Mint" grow mint. Other flavors grow an array of flowers. For marigolds grab the "Peach and Marigold" or for rosetta cosmos pick up "Champagne and Roses."
Article continues below advertisement
The team behind these colorful lollipops are co-founders, Brennan Clarke and Taylor Morgan. Clarke had the idea for these candies when reminiscing about his childhood experiences in his grandmother's garden.
He told Food & Wine, "I wanted the next generations to create those same memories with their parents and grandparents that I had. I was inspired by the inherent resemblance between a lollipop and a flower and wanted to create a delicious, organic treat that would make even the most disinterested youth interested in this experience."
Article continues below advertisement
The duo is looking to take their product to the next level and push the boundaries of sustainable candy. While the stick is biodegradable and created from recycled paper, Clarke and Morgan are focusing on making the packaging entirely eco-friendly too.
Morgan told Confectionary News, "We are testing biodegradable alternatives and hope to launch a zero-waste replacement in 2018. This is the future of confections— companies who care about taste, ingredients, aesthetic, experience, and sustainability."