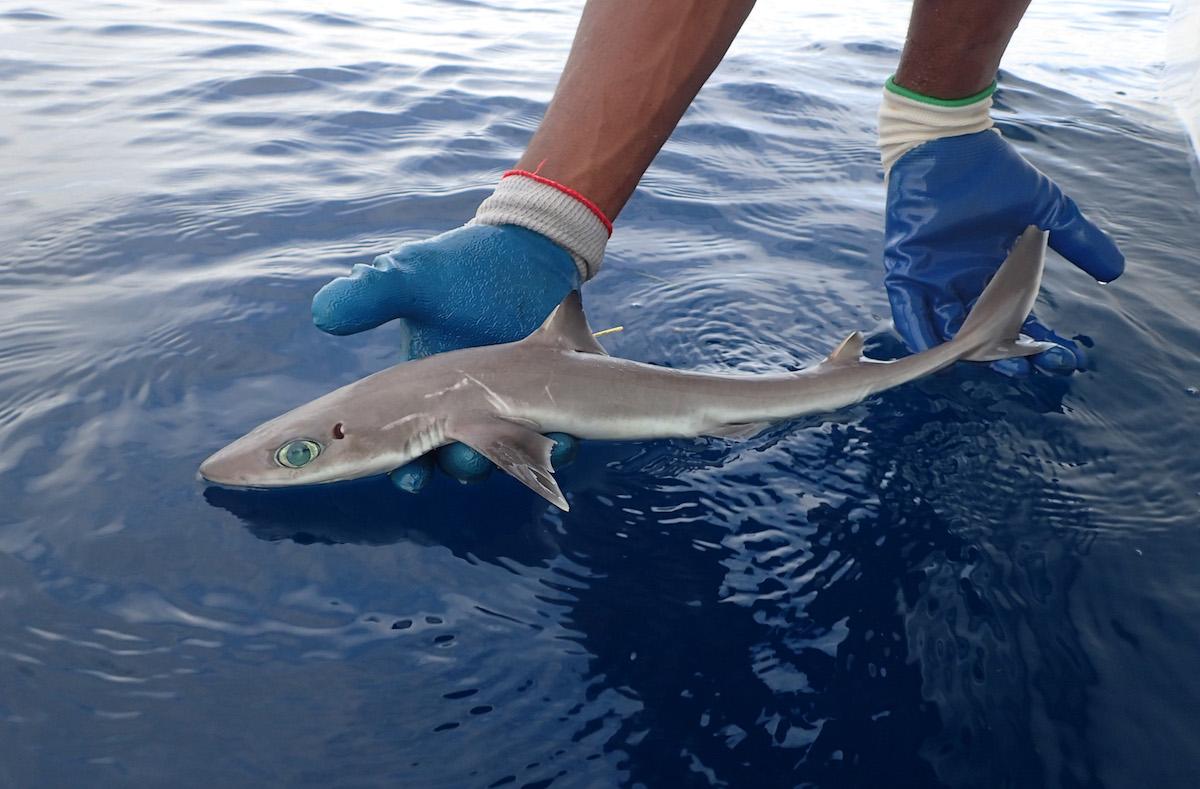 This Newly Discovered Shark Has Enormous Eyes And An Interesting Name
Just in time for Shark Week, scientists have identified a new species of dogfish shark. The Squalus clarkae resides in deep waters, has strikingly large eyes, and takes its name from the famous marine biologist Eugenie Clark, aka "The Shark Lady."
Article continues below advertisement
According to research published in Zootaxa, the Squalus clarkae is a dogfish native to the Gulf of Mexico and western Atlantic Ocean. Dogfish are much smaller than great white sharks or hammerheads, typically running about two to three feet in length. This particular dogfish has enormous eyes, which is why some people are calling it an "anime character" or "anime shark."
Its scientific name is an ode to Eugenie Clark, an ichthyologist who spent her life researching shark behavior. Clark was one of the first female marine biologists to rise to prominence, so much so that she earned the nickname "Shark Lady." Over the course of her career, she conducted 72 deep sea dives and led more than 200 field research expeditions. She also founded the Mote Marine Laboratory in Sarasota, Florida, before passing away in 2015 at the age of 92.
Article continues below advertisement
"She is the mother of us all," Toby Daly-Engel, co-author of the research paper and assistant professor at the Florida Institute of Technology, says in a statement. "She was not just the first female shark biologist, she was one of the first people to study sharks."
Article continues below advertisement
The Squalus clarkae, more informally dubbed Genie's Dogfish, was previously considered a member of the Squalus mitsukurii species. But through genetic testing, scientists determined it was an entirely different animal.
"Deep-sea sharks are all shaped by similar evolutionary pressure, so they end up looking a lot alike," explains Daly-Engel in the statement. "So we rely on DNA to tell us how long a species has been on its own, evolutionarily, and how different it is."
Article continues below advertisement
Mariah Pfleger, the lead author on the study and a marine scientist at Oceana, adds, "This type of research is essential to the conservation and management of sharks, which currently face a multitude of threats, from overfishing and bycatch, to the global shark fin trade…. The first step to successfully conserving these species that live in deeper waters, like Genie's Dogfish, is finding out what is down there in the first place."
Article continues below advertisement
As the authors detail in Zootaxa, there were a number of physical markers that distinguished Genie's Dogfish from similar species. Compared to the Squalus mitsukurri, this shark has a longer body and a shorter tail fin — not to mention a totally different first dorsal fin. But, as the paper reiterates, dogfish in the Atlantic Ocean and Gulf of Mexico tend to have "similar but distinct morphology" and "small species ranges," making genetic research key to classification.
For the paper's four authors, the discovery marks an important next step in understanding marine life and a great tribute to one of the field's pioneers.
"Dr. Clark was a trailblazer for women in shark biology," Pfleger says in the statement. "Her work showed me that it was possible to make my mark in a male-dominated field. This paper is the perfect example of how her career has influenced multiple generations of women in science."