Can Dogs Eat Pumpkin? Benefits, Health Concerns, and More on the Fall Staple
Can dogs eat pumpkin? Are pumpkin seeds healthy for your pets? Here's what to know about feeding your pet the fall staple.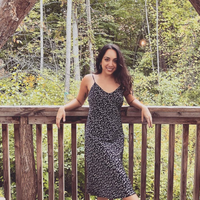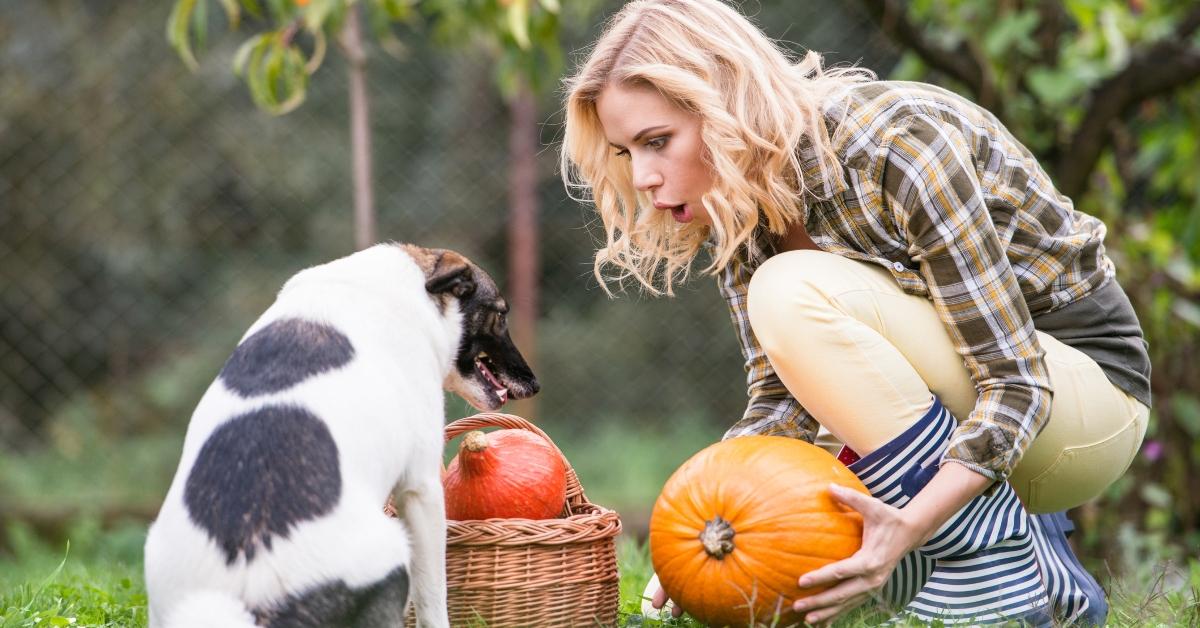 Should pet parents be scared if their dogs eat pumpkin?
Our favorite time of year brings in colder weather, loads of chocolate treats, and holiday decorations — that are also edible. Yes, it's certainly a fall favorite for families to pick and carve pumpkins to display outside their homes.
Article continues below advertisement
But, should dog parents be concerned with their favorite tiny beasts lurking in the corner and looking to devour any morsel that hits the floor? Can dogs eat pumpkin? Keep reading to find out the dos and don'ts of allowing your pets this fall crop.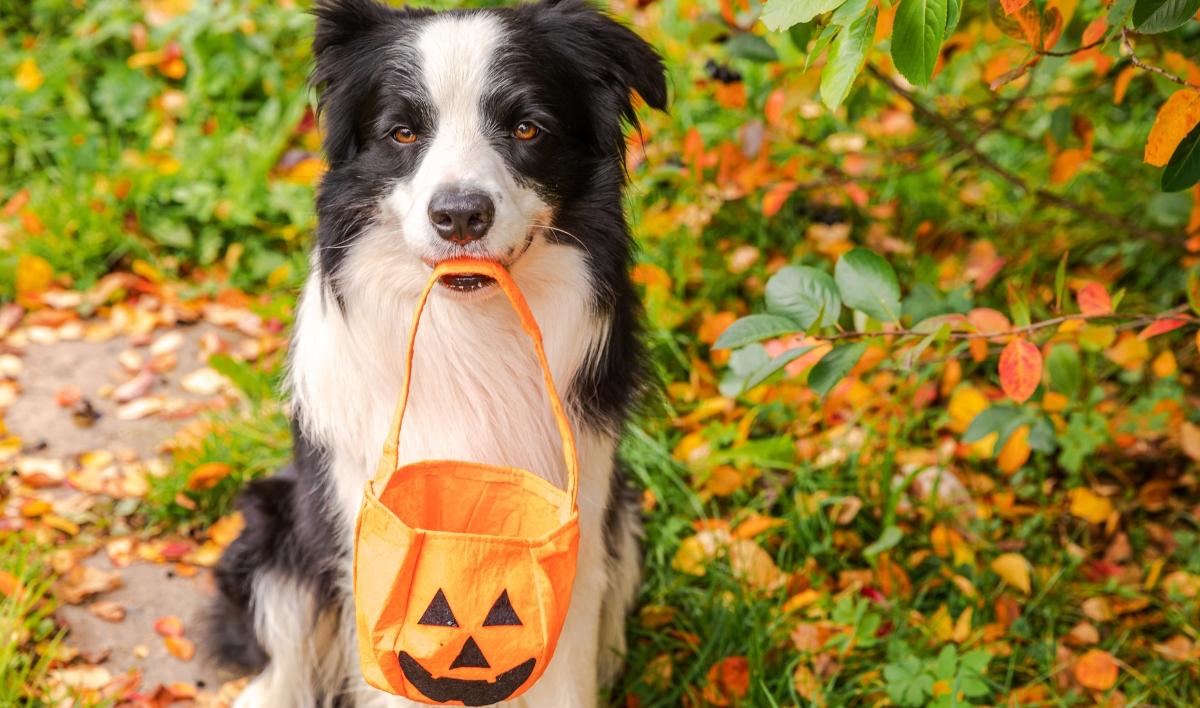 Article continues below advertisement
Yes, dogs can eat pumpkin! Here's what to know about its benefits.
According to the American Kennel Club, pumpkin contains important vitamins and minerals that can ease digestion for your pooch.
"The soluble fiber content in pumpkin adds bulk to your dog's stool by absorbing water, and fiber fermentation produces beneficial fatty acids that supply energy to cells, stimulate intestinal sodium and water absorption, and lower the pH level of the large intestines," the AKC states.
However, it's important to note that plain canned pumpkin makes for the healthiest option for your dog. While fresh and canned pumpkin are packed with good nutrients and fiber, "canned pumpkin contains a higher concentration of fiber and nutrients compared to fresh pumpkin."
But, some canned pumpkin contains added, salt, spices, sugar, and more, which can irritate your pup's stomach, so make sure to opt for plain canned pumpkin. Additionally, pumpkin pie filling should NEVER be given to your pup, as it may contain xylitol, which is toxic to dogs.
Article continues below advertisement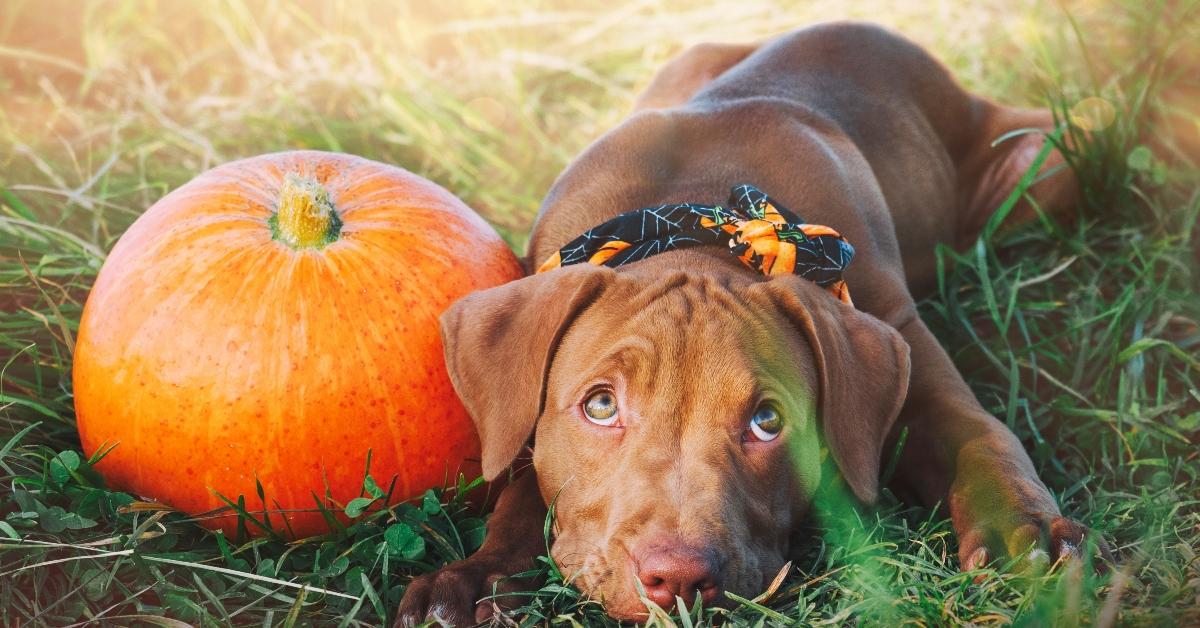 If you would like to give your pup pumpkin, the AKC recommends adding 1 to 4 tablespoons to their food. For further questions, it's best to consult your local veterinarian.
Article continues below advertisement
Can dogs eat pumpkin seeds?
Unlike canned pumpkin, pumpkin seeds do not nutritionally benefit your dog, though they can be eaten in moderation.
"While people eat pumpkin seeds for the benefits (vitamins, minerals, and fiber), those nutrients aren't available or beneficial to dogs," Dr. Sarah J. Wooten, DVM, a veterinarian at Sheep Draw Veterinary Hospital tells Chewy.com. "If you think about it, dogs' guts aren't really set up to digest seeds, and it isn't a part of their natural diet."
Additionally, dog parents should not feed pumpkin seeds that have been cooked in excess fat, salts, or other condiments, such as onion powder. Therefore, if your pup eats a few pumpkin seeds as a treat, don't fret.
Just remember, before letting your dog taste one of your roasted snacks, it's important to remove the shells. In a single day, Dr. Wooten recommends three to five seeds for small dogs, five to 10 seeds for medium dogs, and 10 to 20 seeds for large dogs.
Article continues below advertisement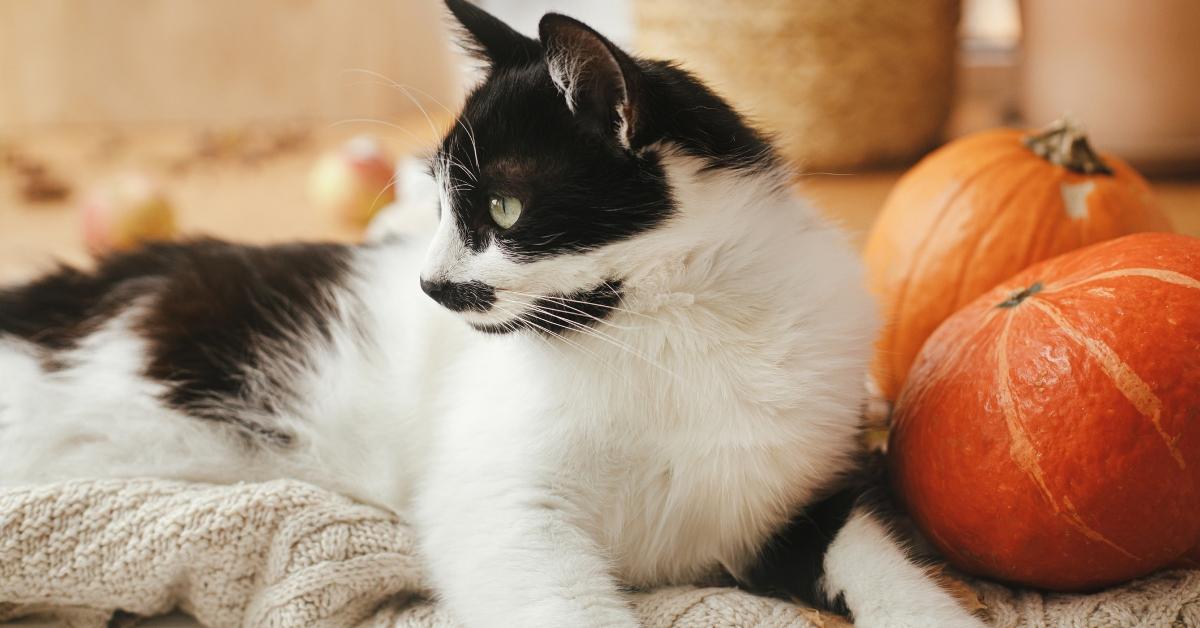 Can cats eat pumpkin?
Similar to dogs, plain pumpkin is a good source of fiber for cats that can help with digestive issues.
"It will get the colon moving a little better in cats predisposed to constipation," Dr. Angelo Maggiolo, medical director of County Animal Clinic, tells PetMD.com.
If your fluffy friend enjoys pumpkin, PetMD recommends mixing between 1 and 4 teaspoons of canned pumpkin with your cat's food. Cat parents, make sure you are serving plain pumpkin to your kitty, with no added sugars or sweeteners.