Biodegradable Plates and Cutlery Made from Wheat Bran May Not Be Gluten-Free, But They Are Pretty Cool
A Poland-based wheat company is using surplus wheat bran to make tablewares.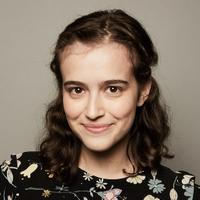 Wheat bran isn't just for breakfast anymore. Poland-based company Biotrem is using the fibrous grain to make biodegradable, single-use, wheat bran-based plates, bowls, and cutlery. Biotrem has been around for a few years, but as Inhabitat reported, the company's products — which are actually edible — made a splash at the Green Living Show in Toronto over the weekend.
Article continues below advertisement
As explained on Biotrem's website, the only ingredients in the company's plates and bowls are wheat bran and water, which are fused together using high temperatures and by applying high pressure. No chemicals are used to make the plates and bowls. Biotrem makes standard round plates in three sizes, as well as a round bowl and an oval bowl. The company also offers custom orders of different-sized products and shapes with the option of custom branding. The plates and bowls are meant to be used once and then composted, because the longer you have food on them, the greater the chance that your food may start to smell a little like bran. Not the worst thing in the world, but perhaps enough of an incentive for your kids to eat their veggies.
Article continues below advertisement
The plates and bowls are microwave safe, and can be used with either warm or cold food. However, Biotrem warns customers not to use the products to serve hot liquids like tea, coffee, or soup, as well as fizzy drinks. (Hey, if you prefer LaCroix out of a bowl, there's no judgment here.) Biotrem says its plates and bowls will break down in 30 days if composted, and according to its Instagram, that includes backyard composting.
Additionally, Biotrem makes matching forks and knives — though their wheat bran content is much lower than their plate and bowl counterparts. The utensils are made from only 10 percent wheat bran, and 90 percent polylactide, which is a biodegradable thermoplastic polyester, typically made from corn, as per ScienceDirect. Biotrem's website does not indicate the best way to compost the forks and knives, but it seems likely that they will require industrial composting. Biotrem did not immediately respond to Green Matters' request for comment.
Article continues below advertisement
As Inhabitat explained, Biotrem's founder and longtime wheat miller Jerzy Wysocki came up with the idea for the wheat bran-based tablewares when he realized the process of milling wheat left him with a surplus of wheat bran. He played around with the leftover wheat bran and was eventually able to shape it into tableware. It's unclear if Wysocki still exclusively uses leftover wheat bran from the wheat-milling process, but if he does, that would make Biotrem's bowls and plates a closed loop model. As the website notes, 1 ton of wheat bran allows Biotrem to make up to 10,000 bowls or plates.
Article continues below advertisement
One thing to keep in mind is that these products all contain wheat, and should not be used by people with wheat or gluten allergies. Unfortunately, for Biotrem, gluten allergies and sensitivities are increasingly common in the U.S. According to a 2015 study published by the National Center for Biotechnology Information, and as reported by U.S. News & World Report, about 1 percent of U.S. residents have celiac disease, and another 7 percent of the population has a gluten sensitivity.
Furthermore, it's important to note that when it comes to dining, reusable tableware is always a more sustainable option than disposables, even if they are made from a natural and biodegradable material. That said, many businesses and schools do not have the infrastructure or space to use reusable plates, bowls, and cutlery, and in those instances, products like Biotrem's are a great option.