The Pacific Island Country of Tuvalu Is Sinking Due to Climate Change
The Pacific Island country of Tuvalu is sinking due to the effects of climate change, and many worry that it won't be long before it's underwater.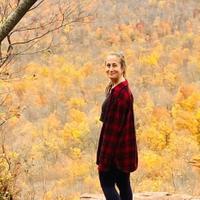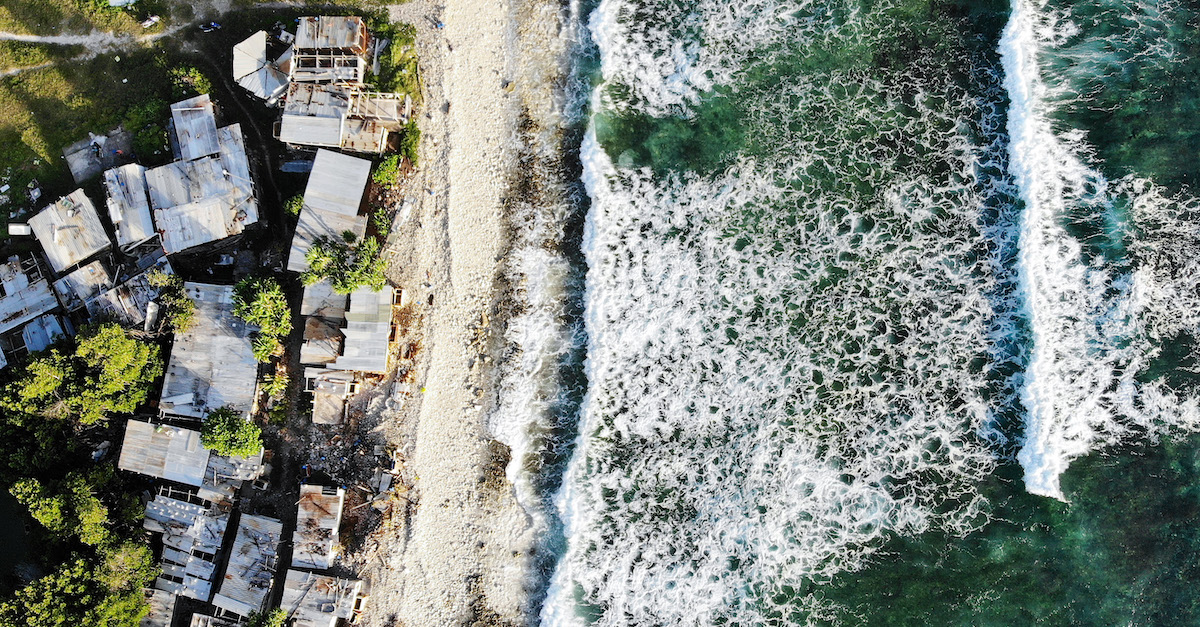 Islands and coastal communities are feeling the most immediate effects of climate change — in addition to facing rising sea levels, many are being ravaged by extreme weather conditions. And the Pacific Island of Tuvalu is no exception. In fact, Tuvalu is sinking as we speak, due to the adverse effects of global warming, and it seems as though it could be completely submerged within the next few years.
Article continues below advertisement
"Tuvalu is sinking," Finance Minister Seve Paeniu told Yahoo News at the UN Climate Change Conference, aka COP26. "We are now living the climate change in Tuvalu, we are seeing land fast disappearing. That's why we are here at COP26, to tell our story to the world. The world needs to take action now, not to defer it to later years."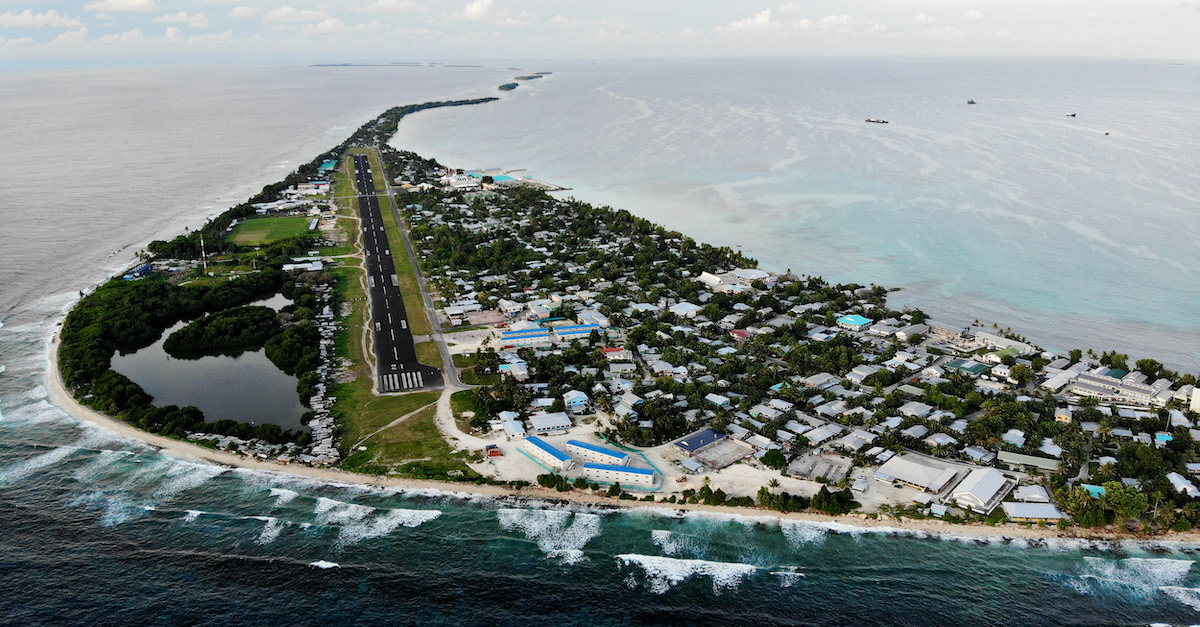 Article continues below advertisement
Why is Tuvalu sinking?
Tuvalu consists of nine low-lying islands in the South Pacific that are relatively close together. Its surrounding waters are home to gorgeous undersea vegetation, a wide range of fish, and marine animals; and unfortunately, it's about to be consumed by said waters, which are rising about .2 inches annually. According to NBC, the islands' highest point is only 15 feet above sea level. That means that by taking no global climate action, it could be submerged entirely within some of our lifetimes.
Resources are "disappearing," and high water temperatures are causing coral bleaching, which harms the surrounding marine ecosystems. Extreme heat, droughts, and changing weather patterns are also wreaking havoc on local communities, while locals' homes are simply not equipped to withstand such gnarly conditions.
According to New Statesman, wealthier nations could have donated an annual climate finance of $100 billion, though many missed their opportunity — and won't have until 2023 to do so.
Article continues below advertisement
"This shortfall, which started to accumulate in 2020, will likely amount to several tens of billions of dollars," said Oxfam's senior climate policy adviser, Jan Kowalzig, as per The Independent. "These are achievable amounts of money – governments have spent trillions on COVID-19 fiscal recovery packages, which show their ability to act in an emergency. This is an emergency."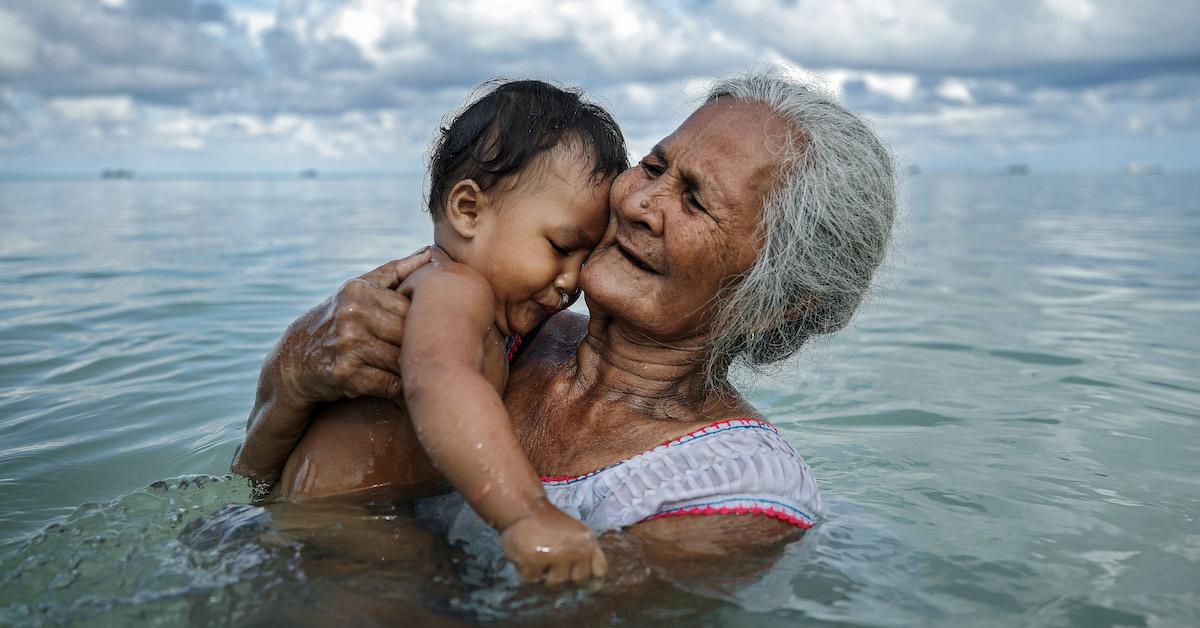 Article continues below advertisement
The Prime Minister made an emotional COP26 speech in knee-deep water.
To prove the island's dire situation, Tuvalu's foreign minister, Simon Kofe, made his speech standing in knee-deep sea water in a suit and tie, before a lectern, according to Reuters. In the speech, Kofe explained that the Tuvalu islands are considered sacred.
"They were the home of our ancestors, they are the home of our people today and we want them to remain the home of our people into the future," he stated, as per Indian Express.
His reasoning for filming the video in knee-deep water was to get his message across.
"The statement juxtaposes the COP26 setting with the real-life situations faced in Tuvalu due to the impacts of climate change and sea level rise and highlights the bold action Tuvalu is taking to address the very pressing issues of human mobility under climate change," Kofe said looking back on his video message, as per Reuters.
That said, hopefully something will be done sooner rather than later to save the beloved Pacific Island, before it's too late.