Coca-Cola and Carlsberg Could Switch to Plant-Based Bottles That Degrade Within a Year
Drinks companies Coca-Cola and Carlsberg are backing a project which aims to develop plant-based plastic bottles that degrade within a year.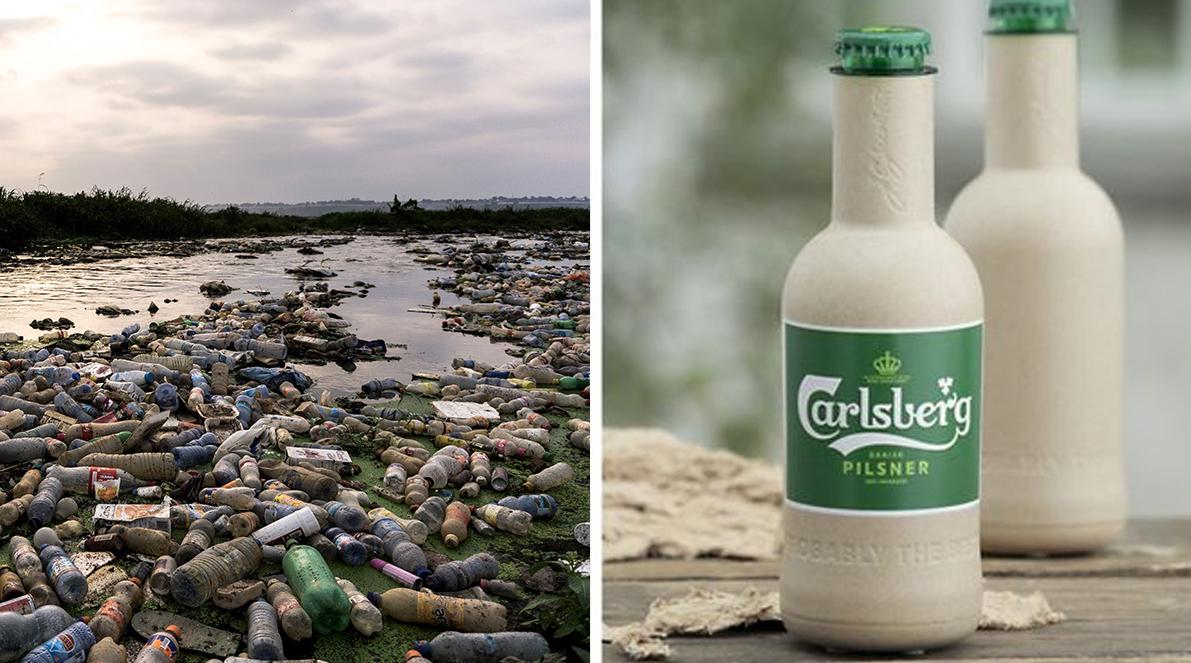 Drinks companies Coca-Cola and Carlsberg are backing a project which aims to develop plant-based plastic bottles that degrade within a year.
Article continues below advertisement
Dutch renewable chemicals company Avantium, packaging developer BillerudKorsnäs, and bottle manufacturer Alpla are working together on The Paper Bottle Project, which is aiming to develop a plastic bottle made from plant sugars rather than fossil fuels.
And now, Coca-Cola and Carlsberg have backed the project as part of an effort to raise investment in the project. According to The Guardian, Carlsberg hopes to use the bottle to sell its pilsner.
Avantium's chief executive, Tom van Aken, explained that the project remains on course despite global lockdowns, and The Paper Bottle Project plans to reveal more partnerships later in the summer.
Article continues below advertisement
According to The Daily Mail, the bottles will have an outer-cardboard layer, which will be reinforced with an inner layer of plant-based plastic. This plastic will be strong enough to hold drinks and ensure that the contents stay cool.
When the two materials are separated, the entire bottle can be recycled. Alternatively, the whole thing can degrade within a year.
Article continues below advertisement
Avantium Managing Director Marcel Lubben explained last year:
"Participating in the Paper Bottle Project and collaborating with like-minded companies within the Paboco Pioneer Community – from bottle manufacturers to consumer brands – on developing new sustainable packaging material is a great opportunity for Avantium."
"It is a milestone in the development of high-value applications such as specialty bottles. The Paper Bottle shows how we, together with partners, can use innovation to help shape packaging for a circular and sustainable future."
According to Tom van Aken, the plant-based plastic is produced by breaking down sustainable plant sugars into chemical structures and then rearranging them.
Article continues below advertisement
"This plastic has very attractive sustainability credentials because it uses no fossil fuels and can be recycled – but would also degrade in nature much faster than normal plastics do," he said.
The companies hope to produce the new plastic by 2023.
In a press release, Carlsberg explained: "We are working on developing the world's first 'paper' beer bottle made from sustainably-sourced wood fibers that is both 100% bio-based and fully recyclable."
"We now have two new research prototypes of the Green Fiber beer Bottle, which are the first 'paper bottles' that are able to contain beer."
Article continues below advertisement
As Green Matters previously reported, plastic pollution is a massive issue for the world. We produce around 300 million tonnes of plastic every year, and most are not recycled. The vast majority ends up in landfills, where they can take hundreds of years to degrade. Some of the plastic finds its way into our oceans, where it kills marine life.
What are some ocean pollution facts?
It's hard to appreciate the scope of the problem without concrete stats — and the ones available are pretty alarming. Here's what scientists around the globe know about the plastic that goes into our oceans:
Since the 1950s, humans have generated about 8.3 billion metric tons of plastic. The substance has now outpaced all man-made materials besides steel and cement, and most of it turns into trash. This stat comes from a widely cited 2017 scientific study, which also found that….
About half of the plastic produced was made in the past 13 years.
By 2015, 6.3 billion metric tons of plastic had already become waste, and only 9 percent of it was recycled. Another 12 percent was incinerated, while 79 percent ended up in landfills or the natural environment. If current conditions continue, the amount of waste will jump dramatically.
Article continues below advertisement
By 2050, around 12 billion metric tons of plastic could wind up in landfills or the natural world.
Each year, at least 8 million metric tons of plastic enter the ocean, which is the same as dumping a full garbage truck into the water every minute.
The United Nations Environment Programme estimates that every square mile of ocean contains roughly 46,000 pieces of floating plastic.
The world's largest collection of floating trash is the Great Pacific Garbage Patch, a collection of debris that lies between California and Hawaii. It contains roughly 79,000 metric tons of plastic.
Up to 85 percent of plastic pollution found on shorelines is microplastics. These tiny fragmented pieces of plastic break off when the material is left to degrade under the sun's UV rays, and they are often consumed by animals that live near or in the ocean.
According to UNESCO, plastic waste accounts for the deaths of more than a million seabirds every year, along with over 100,000 marine mammals.
By 2050, there could be more plastic in the ocean than fish.