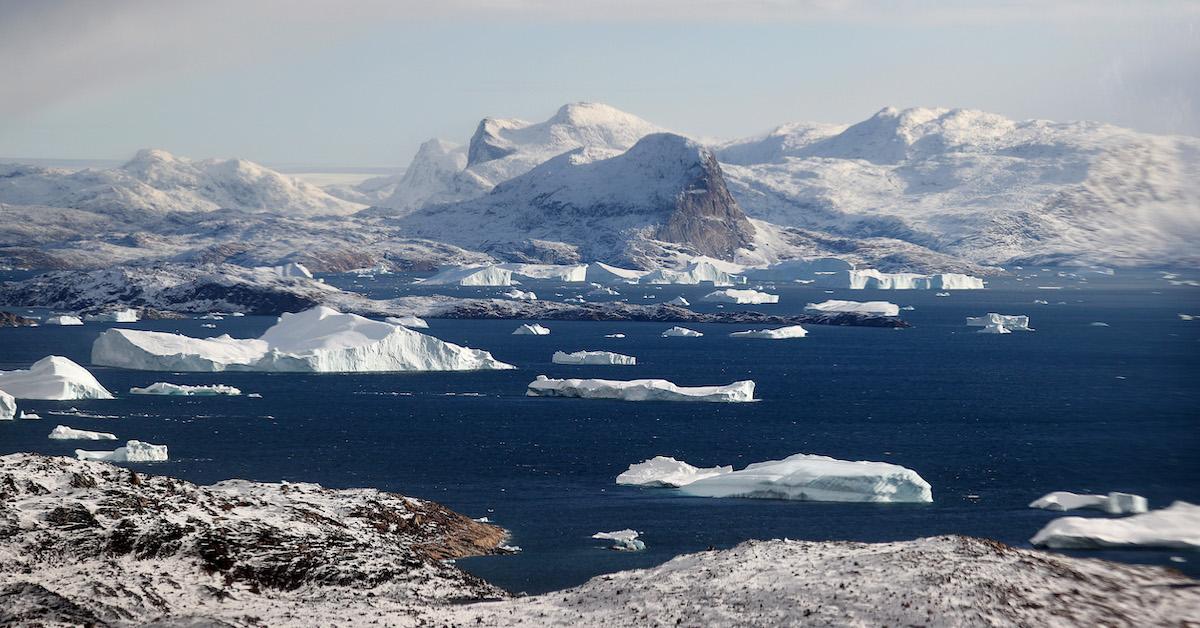 Greenland's Massive Ice Sheet Is Melting So Fast That It's Causing Major Sea Level Rise
A new study has discovered that the melting of the Greenland ice sheet has a number of stronger effects on the planet than previously thought. Namely, that the massive ice sheet's melting is one of the largest sources of sea level rise on Earth, accounting for almost a foot of sea level rise.
Keep reading for the details on the new research.
Article continues below advertisement
The Greenland ice sheet is melting — and raising sea levels.
A new study by researchers in Denmark, Switzerland, Colorado, Belgium, Finland, and the Netherlands, published in the journal Nature Climate Change on Aug. 29, compared data on the ice sheet from the past two decades (2000–2019) along with satellite measurements of the ice retreat of the Greenland ice sheet.
Article continues below advertisement
As The Guardian noted, most past studies on the topic of the Greenland ice sheet used computer models; but by using satellite measurements for this study, the researchers were able to get far more accurate measurements and estimates.
In the end, they concluded that "Ice loss from the Greenland ice sheet is one of the largest sources of contemporary sea level rise."
The researchers attribute this to "mass turnover from precipitation, ice flow discharge, and meltwater run-off." And as for diagnosing how the melting of the Greenland ice sheet will progress over the rest of the century, the researchers are giving an "ominous prognosis."
Article continues below advertisement
Specifically, the researchers believe that within this century, the continued melting of Greenland's ice sheet will solely contribute to a global sea level rise of at least 10.6 inches (about 27 centimeters), but it could likely go up to 30 inches (about 78 centimeters), as per The Guardian.
"It is a very conservative rock-bottom minimum," lead author Jason Box stated, via The Guardian. "Realistically, we will see this figure more than double within this century."
Co-author William Colgan added that "the sea-level rise we are committed to is growing at present, because of the climate trajectory we're on."
Article continues below advertisement
Additionally, many are referring to the ice sheet in question as "dead," "doomed," or "zombie" ice. As per AP News, that is ice that is attached to glaciers, but not getting "fed" by those larger glaciers, due to the larger glaciers receiving less snowfall — which is due to, you guessed it, global warming.
Article continues below advertisement
"It's dead ice. It's just going to melt and disappear from the ice sheet," explained Colgan, as per AP News. "This ice has been consigned to the ocean, regardless of what climate (emissions) scenario we take now."
Article continues below advertisement
The projected sea level rise by 2050 isn't looking good, but it can be prevented.
Earlier this year, several U.S. government agencies (including NASA and the NOAA) published a joint report predicting between now and 2050, global sea levels will rise by amounts equal to the total rise we've experienced over the past 100 years — on average, 10 to 12 inches along costs.
When the study was released, NOAA Administrator Rick Spinrad, stated: "As we build a Climate Ready Nation, these updated data can inform coastal communities and others about current and future vulnerabilities in the face of climate change and help them make smart decisions to keep people and property safe over the long run."
Article continues below advertisement
That said, the new study published in Nature Climate Change shows that the government's predictions regarding sea level rise are unfortunately highly conservative.
Though these dead glaciers melting is seemingly inevitable, there is so much that can be done in general to prevent ice sheets from melting and sea levels from rising.
On an individual level, we can take action to reduce our environmental impacts and emissions; however, in this case, most of the work that needs to be done must come from governments. Though this news seems bleak, there are so many strategies that can be adopted — and there's no better time to do so than now.