A Funky Looking Greenhouse Just Popped Up In Busy Copenhagen Intersection
One Danish architect shows us what the future could look like in a new project experimenting with 'living architecture'
When you're wandering around a city you might see a lot of things on the way to your destination but one thing you usually don't find is a greenhouse in the middle of an intersection. If you're headed to Copenhagen soon though that could change. Danish architect Simon Hjermind Jensen of SHJWorks just unveiled a new project that puts a little dose of nature right in the middle of a busy area of the European city.
Article continues below advertisement
SHJWork's projects emerge from the desire to and interest in creating a link between people and places. Their projects are often temporary and small scale architecture. "Biotope," a self-watering greenhouse and sculptural pavilion in the shape of a shell, is an experiment with a microcosm of plants and insects at an exposed and harsh place in the city. "In Greek, bios means 'life' and topos means 'place.' The project addresses these two words and their content," Jensen said.
"Can feelings of sympathy towards objects or structures establish a stronger and more caring relationship to the place in which we live and inhabit?" is one of the questions he hopes to answer with the experiment in "living" architecture.
Article continues below advertisement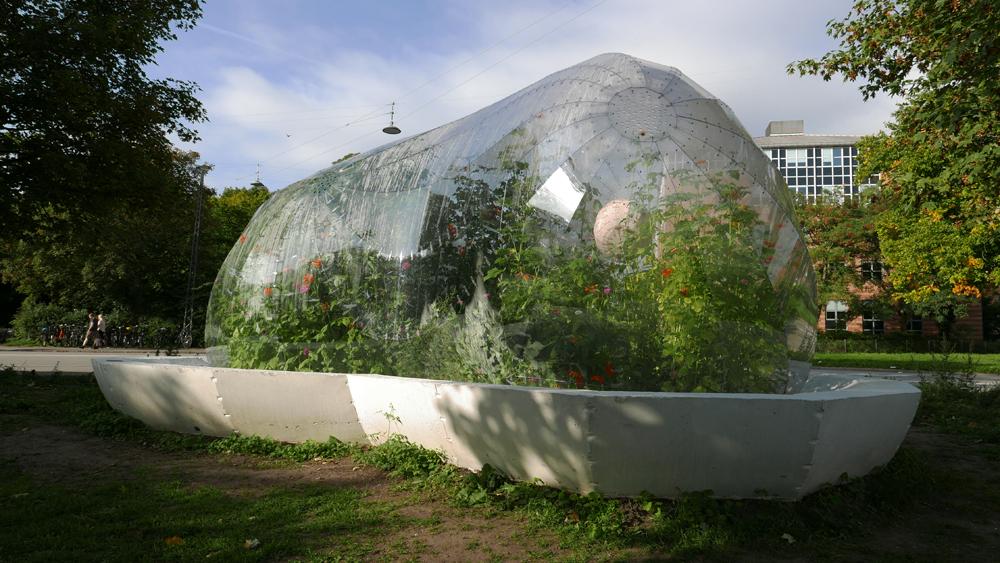 More than 60 different types of seeds have been sewn in the soil to attract insects and a beehive has also been installed. The edge of the bowl or greenhouse functions as a bench, and the inside life of the shell functions as an ever changing visual interest for the everyday passersby.
Article continues below advertisement
Installed near a train station and close to a three lane road, Biotope is a translucent shell that's easy to observe for those walking, driving, or riding their bikes. The shell is made of transparent 4 millimeter thick polycarbonate, which acts as membrane in protecting plants inside from the harsh external conditions.
Anyone who's in the area on a regular basis will be able to see the transformation of the experiment over the three years the installation will exist at the location, though the greenhouse won't be accessible for the public to enter. Jensen noted during the three years there will be no maintenance or interference inside the shell. "How the inside life with plants and insects will evolve over time is an experiment," he said.
Article continues below advertisement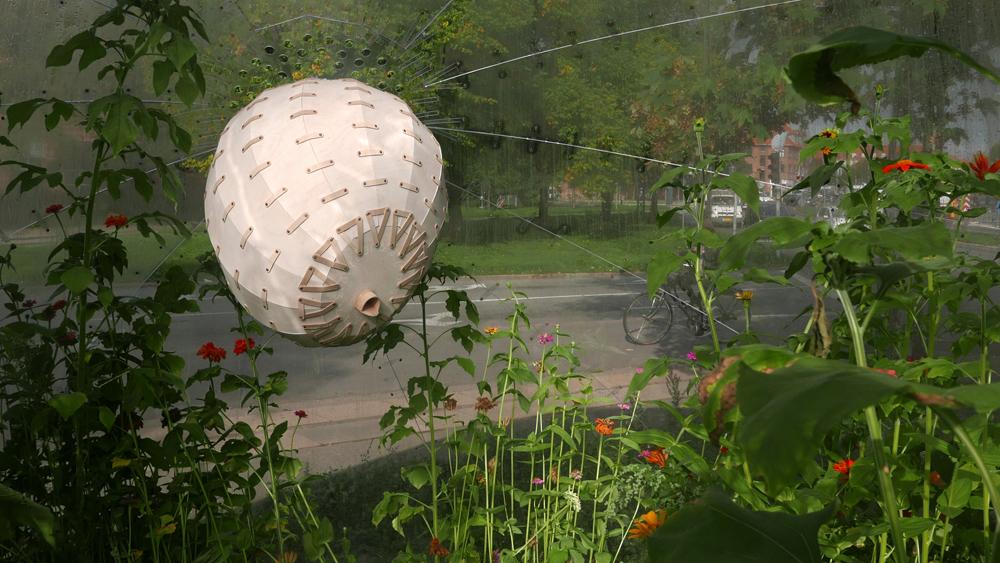 "The sculptural and organic shape of the project is made specifically for the place. The shell mimics a simple shape of a primitive organism or bacteria. It lies with its "back" against the minor road and its "face" towards the most intense and energetic element: the three lane road," he wrote on his website.
Article continues below advertisement
"By lying in this 'posture' the project creates a small protected area between itself and an existing tree on the triangular greenery. The intention of mimicking a shape of a living organism is to explore if we humans can feel related to such a form. And if so, to see if an organic shape can be a 'mediator' between humans and places."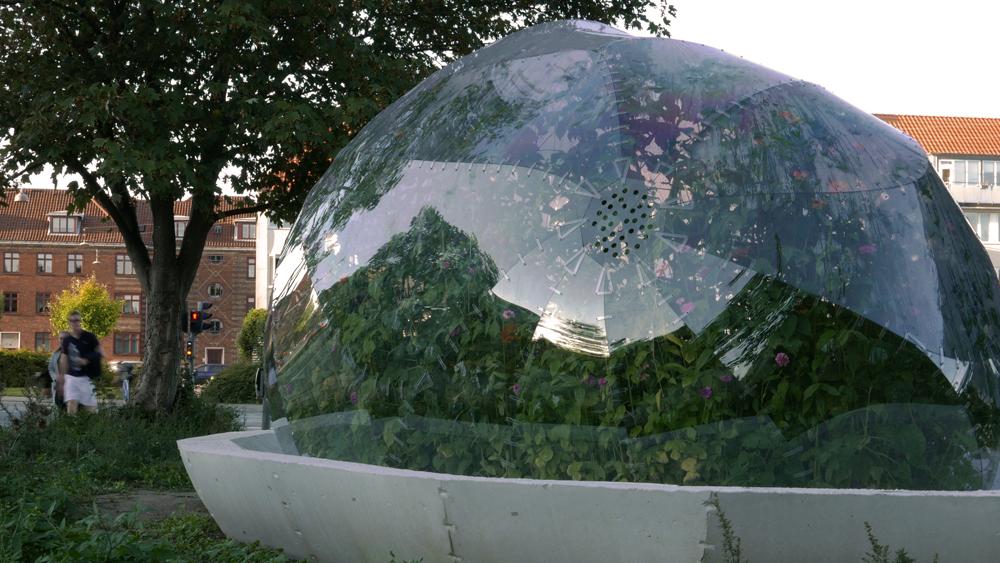 Article continues below advertisement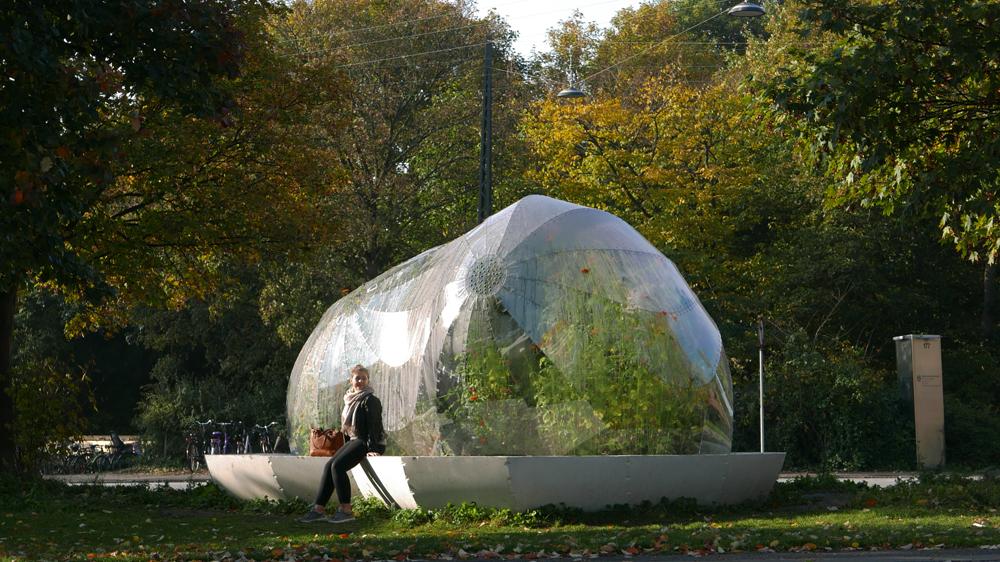 "Our climate will change," Jensen said. "And maybe we will integrate plants and biological microcosms in our future dwellings and cities. Most likely there will be more harsh and exposed environment on our planet. And we ask ourselves if a solution will be to create microclimates where we — like the bees in this project — have our homes connected to and intertwined with?"