Costa Rica Plans To Eliminate Fossil Fuels By 2021
Costa Rica is aiming to completely reduce its reliance on fossil fuels by 2021.
Costa Rica has set a goal to become the first country to completely eliminate and ban fossil fuels. New president Carlos Alvarado made the announcement during his inauguration earlier this week. The transition is expected happen as early as 2021, though energy and sustainability researchers don't believe it can happen as quickly.
Article continues below advertisement
For a long time, renewable energy accounts for 99 percent of the power generated in Costa Rica. 80 percent of that comes from hydropower while solar, wind, geothermal, and biomass make up the rest of it. Last year, the country set a new record of going 300 straight days exclusively using their renewable sources.
Carlos Alvarado, 38 years old, won the second round of the 48th presidential election on April 1st with 61 percent of the votes. He was sworn into office on May 8th and made the fossil fuel ban announcement after his victory. Alvarado was the Minister of Labor and Social Security back in 2016 and was also a journalist.
Article continues below advertisement
"Decarbonisation is the great task of our generation and Costa Rica must be one of the first countries in the world to accomplish it, if not the first," Alvarado said during a victory speech. "We have the titanic and beautiful task of abolishing the use of fossil fuels in our economy to make way for the use of clean and renewable energies."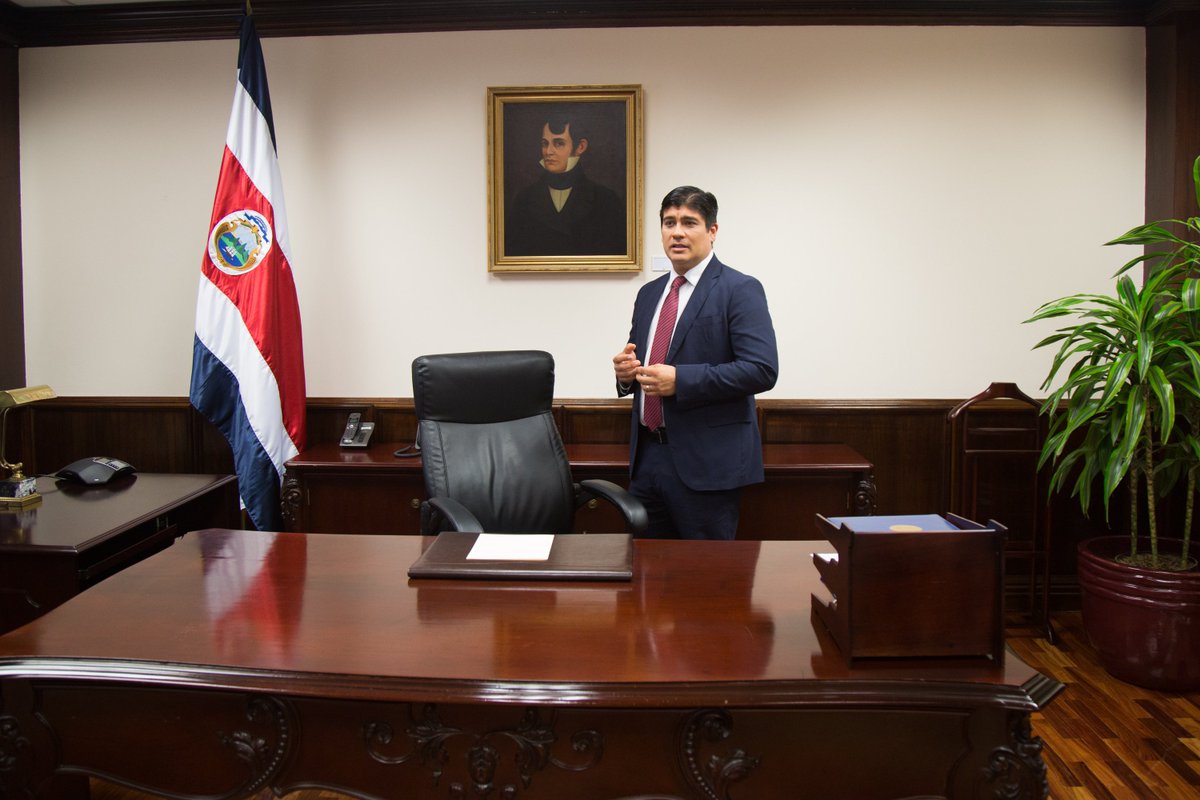 Article continues below advertisement
While running solely on renewable power is feasible by 2021, completely eliminating Costa Rica's carbon footprint may not be realistic. At the moment, we're still in the early stages of using electric vehicles, especially in terms of delivery trucks and mass transit. Removing all forms of gasoline could disrupt the growth of vehicles in the country.
According to Costa Rica's National Meteorology Institute, 42 percent of carbon emissions are coming from vehicles. Since public transportation is failing to satisfy the needs of their citizens, the local car industry has increased rapidly -- by 25 percent -- over the last three years. Critics believe that the current infrastructure is not set up to support a fast transition.
Article continues below advertisement
"If there's no previous infrastructure, competence, affordable prices and waste management we'd be leading this process to failure. We need to be careful," Oscar Echeverría, president of the Vehicle and Machinery Importers Association, told Reuters.
Article continues below advertisement
Another problem is tackling Costa Rica's budget, which has been running on a deficit since 2009. 22 percent of the country's income comes from taxes on fossil fuels, and most of that generation is from the automobile industry. However, they can't rely on income from dirty energy forever if they want to become a fully sustainable country.
Completely removing fossil fuels in three years may be aggressive, but it could at the very least begin the process of finding other ways to eliminate their deficit. Jose Daniel Lara, an energy researcher at the University of California-Berkeley, notes that the country could add a tax to carbon emissions and the decrease of air pollution can save money on health care.
Article continues below advertisement
Costa Rica has also set a goal in 2021 to completely eliminate single-use plastics. The United Nations Development Program urged citizens to join the government in decreasing their use of plastic bottles and containers. University researchers also studied an alternative made from cellulose acetate, which could disintegrate in 18 months.
With transportation being a significant challenge, it's hard to believe that Costa Rica will be able to completely eliminate fossil fuels in the near future. However, it can be a realistic scenario if they improve public transit and wean themselves off of fossil fuel revenue. They could even set the standard for other countries to follow.