Genesis Reveals First EV At The 2018 New York Auto Show
Genesis stole the New York International Auto Show with the new electric Essentia concept vehicle.
Genesis stole the New York International Auto Show with their new Essentia concept vehicle. The sleek, futuristic sports car is what many believed would be commonplace by this time period many years ago. It's the first electric vehicle created by the luxury division of the Hyundai Motor Group.
Article continues below advertisement
The new Essentia will feature a lightweight, carbon fiber body with butterfly doors and a transparent bubble roof. Along with a multi-motor electric powertrain, this vehicle will achieve a speed from 0 to 60 miles per hour in just three seconds. Drivers will utilize fingerprint scanning and facial recognition in order to operate the vehicle. As you'd expect, it'll be battery electric with no statistics announced yet.
Article continues below advertisement
Its bubble hood certainly raised eyebrows at the show, and it's getting pretty close to the circular design seen on classic cartoons like The Jetsons. While it doesn't have the ability to fly, everything from the rear window to the hood of the vehicle meshes together with a transparent look. The outside of the vehicle has a gray metallic finish with orange trim.
Within the interior, there's a red and blue color scheme that covers cognac leather seating. An eight-inch display screen sits atop of a center console that separates the cockpit seats. Similar to other futuristic concepts, there will be the ability to fully control the vehicle with voice commands.
Article continues below advertisement
"The Genesis Essentia concept defines our vision for an electric Gran Turismo that integrates Athletic Elegance and Genesis DNA as defining parameters," Luc Donckerwolke, head of Genesis and Hyundai design, said in a press release. "A Gran Turismo typology highlights our ambition as a luxurious car brand for the connoisseurs and it is the perfect base to project our DNA in the future."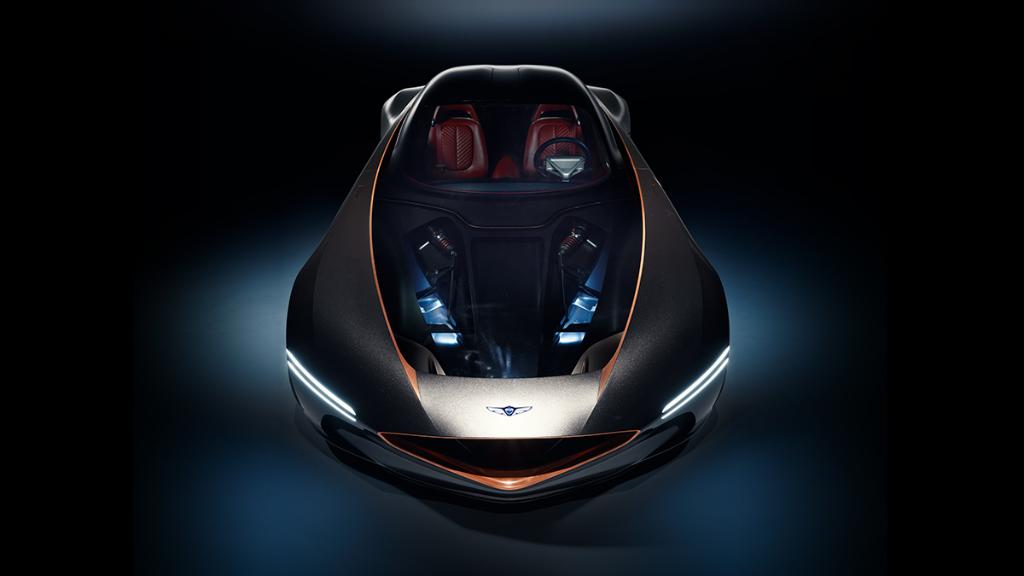 Article continues below advertisement
Other technological features were revealed, such as connecting to the infrastructure and other vehicles. As talked about in other concepts, the Essentia will tailor the experience to a driver's specific preferences and moods. It also will have the ability to connect and be an extension with smart home features, such as lighting and accepting deliveries.
All of this remains a concept and isn't approved for production, but Genesis CEO Manfred Fitzgerald is "testing the waters" and "pushing for it" according to Motor1. Having the ambitious bubble roof will likely be one of the hardest aspects to put together, but design director Peter Schreyer believes the butterfly doors are a realistic feature. It's expected to enter production by 2021.