Toyota Power Plant Will Create Hydrogen From Cattle Waste
It seems like any waste we generate can be recycled into something useful. Used coffee grounds are being converted into fuel for public transit in London. Toyota has taken things a step further by using cattle manure to produce hydrogen, showing more support on the future of hydrogen fuel cell technology.
Article continues below advertisement
Toyota announced their Tri-Gen Project at the Los Angeles Auto Show. Claiming that it'll be the world's first facility that generates hydrogen with 100 percent renewable power, they'll be capturing methane gas from dairy cattle manure into fuel cells. The power plant will generate water, electricity, and hydrogen.
Article continues below advertisement
Hydrogen that's created from this facility will be used in Toyota's fuel cell vehicles, such as the Mirai and Project Portal trucks. While Tesla has stolen the show with their electric semis, Toyota has a class 8 fuel-cell truck with a range of 200 miles. The infrastructure is very limited for hydrogen vehicles, however these trucks run on a specific route that keeps them running. Once technology improves, Toyota will lengthen their destinations.
The Tri-Gen Project is expected to come online by 2020, and at that time it'll generate 2.35 megawatts of electricity and 1.2 tons of hydrogen on a daily basis. Fuel cells will be provided by startup FuelCell Energy, who have been creating power plants of their own that separates water, hydrogen, and carbon dioxide from natural gas.
Article continues below advertisement
"In most states, you have a conventional natural gas pipeline network that provides heat for your stove or furnace. The majority of natural gas comes from drilling for well gases," Matt McClory, senior engineer with Toyota R&D, told USA Today. "We're trying to green up this process. One way is to find renewable sources, like from gases emitted from landfills, wastewater treatment plants and farm animals."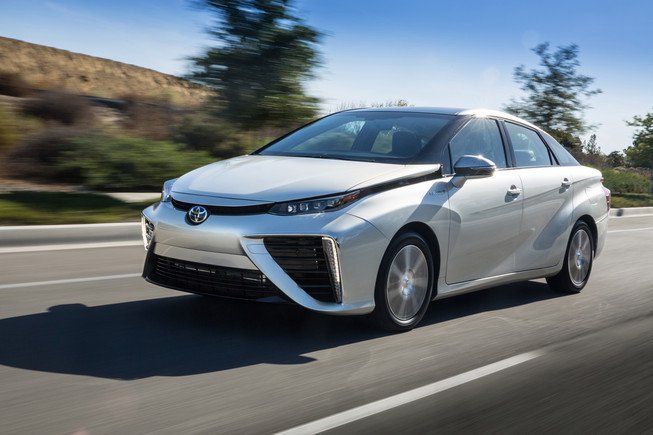 Article continues below advertisement
Toyota anticipates that the power plant will be able to generate enough energy to power 2,350 average-sized homes and would meet the requirements of 1,500 vehicles on their daily commute. It would be the first facility under the Toyota brand that would be 100 percent renewable. The auto manufacturer has set goals to reduce carbon emissions from their vehicles by 90 percent by 2050, and 10 years before that they will cease production of internal combustion engines.
Hydrogen remains a controversial source of energy because the majority of its production comes from nonrenewable sources. Despite lingering ties to fossil fuels, it does add a significant amount of range and hydrogen fuel cells themselves emit oxygen and traces of water. This method of transferring cattle waste gases to hydrogen power could be a way to help clean its perspective.