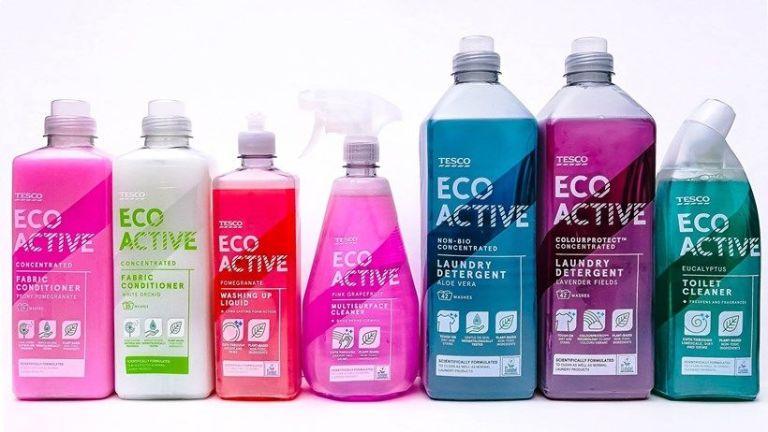 Green Cleaning Supplies Are Getting So Popular Tesco Is Starting Its Own Brand
Tesco is a huge chain in the United Kingdom, with over 6,000 locations. When a big brand makes a change, it can have a ripple effect on everything around it, from employees to shoppers. It seems like Tesco has noticed that people are more and more interested in investing in ecological healthy ways, and they're pushing that trend with their own innovations.
Article continues below advertisement
HouseBeautiful reports that the current big step for Tesco is the introduction of housecleaning supply products that will be plant-based, non-toxic, and made from biodegradable ingredients, called their Eco Active line.
Product developer, Sanjeev Kaushal, who worked on the line, said that Tesco was inspired by the rise in demand for these sorts of products, with a 45% increase in sales.
Article continues below advertisement
"Demand for eco-cleaning products in the UK is at an all-time high with shoppers more aware of how they can protect the planet through informed choices that start in their homes," he explained.
Article continues below advertisement
"Customers tells us that they want to buy eco-cleaning products but they must be effective, affordable, easily available and independently certified to not harm the environment. They also want complete transparency on how they are produced, the ingredients they contain and the impact they have on the environment. We believe our new range of products answers all that criteria"
There are seven products in the line, including laundry detergent, surface cleaner and dishwashing liquid. And because it's a store brand, products are a little cheaper than name brands, running from £1 to £4.
Article continues below advertisement
Everything has been tested and certified by EU Ecolabel, which identifies products on their environmental impact. The containers are also almost 50 percent recycled plastic.
Plus, they smell good! There's a pink grapefruit and a white orchid scented soap—though they serve different purposes. At least every aspect of your home can not only smell good but support the environment as well.