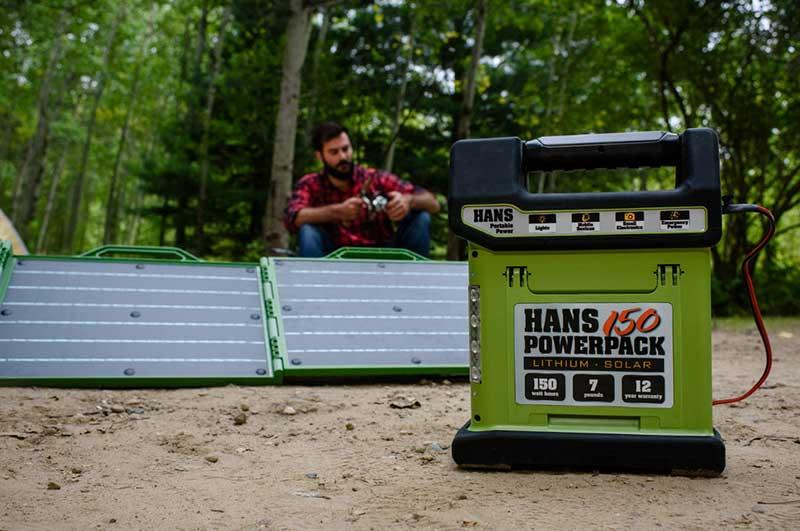 Solar Briefcase Offers Remote And Emergency Power Options For Those In Need
By Brian Spaen

Updated
Recent advancement in solar power has cropped up technology that's able to power our devices through the sun. It allows us to become more mobile so our devices stay charged. They also can benefit poorer areas by bringing reliable power off the grid. One of those products is a rugged briefcase-like solar panel system that can be connected to massive batteries.
Article continues below advertisement
HANS Power and Stage 2 Innovations have launched the Solar Briefcase 60, a portable array of solar panels that compliment a HANS PowerPack. One PowerPack is a seven-pound model with 10Ah of lithium-ion capacity (PowerPack 150). The other weighs two pounds more and has 20Ah of capacity (PowerPack 300). Both of them provide an integrated 4.5-watt solar panel so the product can charge itself, but it can take over 30 hours to do so.
That's where the 60-watt Solar Briefcase comes in. When plugged into PowerPacks, it can charge them up in a matter of hours. Specifically, it takes at least 3.5 hours for the 150 model and 7 hours for the 300 model. It's an extremely lightweight solution, weighing around 10 pounds. Folded up, its dimensions are 19.5-by-16.4 inches and it's just two inches thick. 
Article continues below advertisement
An additional option for the Solar Briefcase is to link the briefcases together for even faster speeds. If sunlight is poor and there's a wall outlet available, the PowerPacks can also be charged by traditional methods.
Article continues below advertisement
Production of the HANS Solar Briefcase and its PowerPacks was made possible by the Billions in Change movement founded by Manoj Bhargava. Bhargava, who became a successful billionaire with the creation of 5-Hour Energy, is dedicated to finding solutions for what he calls the unlucky half of the world. They're continuing to invent products that provide basic needs, like clean water, electricity, and food to improve the quality of life for people.
Even though these products are focused to help poorer areas, they are available for use worldwide. All HANS products are created in Detroit, Michigan. The new Solar Briefcase 60 retails for $279 and can be ordered on the website. The PowerPack 150 is $50 more than the briefcase while the PowerPack 300 is $429. It's a significant chunk of change for going off the grid up front, but the batteries will last for over 1,000 charges and each includes a 12-year warranty.