This Refugee Camp Is Now The First In The World To Run On Solar Energy
A refugee camp in the Jordan Desert is the first of its kind to run completely on Renewable Energy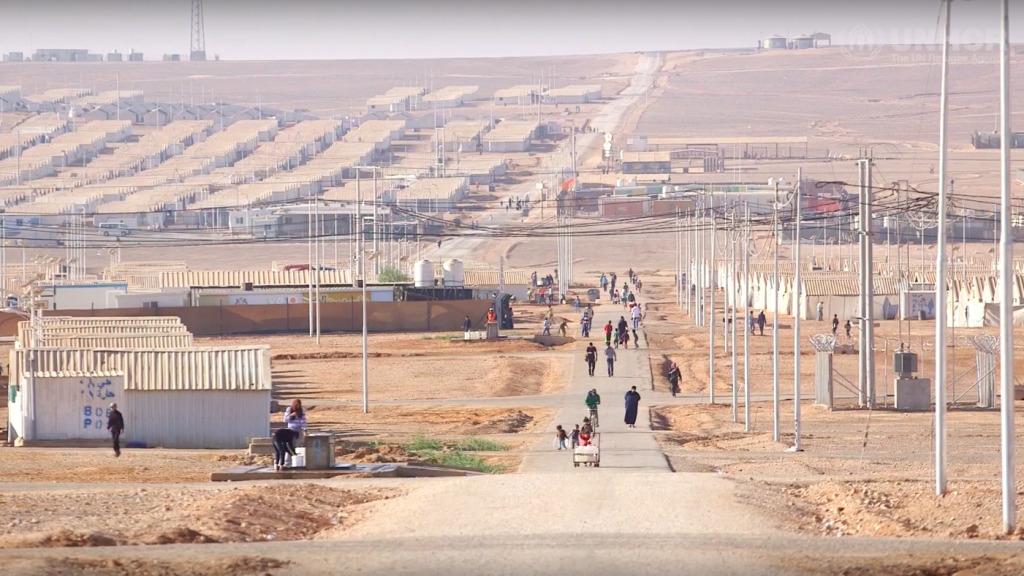 Refugee camps in the remote desert of Jordan have continued to build economies as they remain displaced from the ongoing Syrian Civil War. Azraq, the second-largest camp with a population over 35,000, was set up in April 2014. For years they relied solely on portable solar lanterns to light their homes, but thanks to a new solar farm they're the first refugee camp to be powered by renewable energy.
Article continues below advertisement
"Today marks a milestone," said Kelly T Clements, UNHCR Deputy High Commissioner. "Lighting up the camp is not only a symbolic achievement; it provides a safer environment for all camp residents, opens up livelihoods opportunities, and gives children the chance to study after dark. Above all, it allows all residents of the camps to lead more dignified lives," he said.
Originally used back in the early 1990's during the Gulf War, Azraq stretches out to roughly 9.3 miles with rows of shacks made out of zinc and steel. These structures provide relief from the hot weather that usually encapsulates the area. However, it's generally not enough as the population relies on energy to cool off.
Article continues below advertisement
When the camp began, refugees had to endure harsh climates while having no access to electricity due to the high cost. The ability to power cooling fans is essentially a luxury compared to the necessities of cooking, washing clothes, or providing light. In winter months, darkness sets in before a traditional workday in the United States is over.
Dark periods created a dangerous atmosphere. Restrooms are not part of families' homes and are shared publicly. Not only were there potential thieves to worry about, but there were snakes, scorpions, and other animals that could pose a threat. Lighting was limited to solar lanterns that featured a limited run of four to five hours. There was talk of installing generators, but that never came into fruition.
Article continues below advertisement
As the population of refugees rose in 2016, ideas began to take place to create a solar-powered farm located next to the camp, and eventually became funded by IKEA's Brighter Lives for Refugees campaign. For each LED light-bulb sold throughout the campaign period, the IKEA Foundation donated 1 euro to UNHCR to bring renewable energy and education to refugees.

Altogether, the $9.7 million two-megawatt solar plant will save the U.N. Refugee Agency $1.5 million a year in electricity costs that they can use for other aid. Over 5,000 shelters "can now connect a fridge, a TV, a fan, have light inside...and charge their phones, which is critical for refugees to keep in contact" with others, UNHCR reports.
Article continues below advertisement
Per Heggenes, the head of IKEA foundation, said the solar project offers many benefits that include reducing carbon emissions and improving the living conditions of refugees. "The world's first solar farm in a refugee camp signals a paradigm shift in how the humanitarian sector supports displaced populations," he said.
A resident of the camp for two years with her two adult sons, Fatima, a 52-year-old woman from rural Damascus, described in the announcement from UNRA what conditions were like for her family before they had access to electricity.

"Before this, when we cooked a meal we had to throw the leftovers away because there was no safe way to store food," she said. "When we got too hot, we had to pour water on our clothes to keep cool. Now we can listen to music or have a cold glass of water, and daily life no longer ends when the sun sets."