This Designer Recycles Tire Rubber Into Stylish Home Decor
Designer Arielle Assouline-Lichten uses recycled tire rubber in her home decor line of coasters, mirrors, placemats, and side tables.
Arielle Assouline-Lichten had her eureka moment when she was sitting at her desk, staring at a piece of recycled rubber. The material was intended to line the floor of a gym her architecture firm was designing, but Assouline-Lichten thought it could be something else. A coaster. Or maybe even a table. She began sketching out prototypes and pretty soon, Slash Objects was born.
Article continues below advertisement
This collection uses recycled and salvaged scraps in unexpected ways, melding industrial rubber with marble and brass to create chic home accents. It's the first of what Assouline-Lichten hopes are many twists on sustainable building materials — ones people aren't used to seeing in their living room. Here's how she sketched out the first line, where she gets that rubber, and what she hopes to tackle next.
The following Q&A has been edited for clarity, flow, and length.
Article continues below advertisement
GREEN MATTERS: How did Slash Objects get started?
ARIELLE ASSOULINE-LICHTEN: So really it started in 2016, around then, when I discovered this recycled rubber that is basically the core of our current line of products. I was working on a residential project as an architect on the team, and one of the responsibilities was designing a gym. This [rubber] is typically used as a gym flooring, so I just had all these samples on my desk of this material. When I found out that it was a LEED certified green material and that it had all these amazing functional properties and that it has this really beautiful texture, it's got a lot of versatility, I wanted to use it for something other than what it is typically used for.
Article continues below advertisement
So I essentially just started making prototypes and playing with it and ordered a small amount of the material and really just tested out what it could become and made a very wide range of different prototypes. I showed basically that concept and the range of prototypes at Sight Unseen Offsite, which is a design trade show, in May of 2016, which was really the beginning of everything.
Part of that was just to test and see if people were going to be receptive to the rubber, because I hadn't really seen many products using it. From that show, people were really interested, and really liked this idea of new material use. So that kind of propelled things forward.
Article continues below advertisement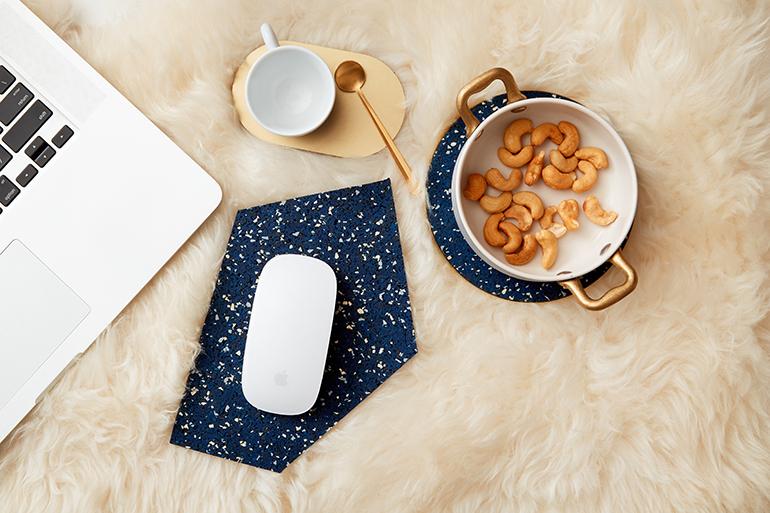 GM: Where does the rubber come from?
Article continues below advertisement
AAL: So I buy directly from a manufacturer who's located in Pennsylvania. Because of the density of the rubber, I'm conscious of, you know, the fuel consumption and the transportation costs and wanted to find a manufacturer generally in the tristate area that I could use as a supplier. So as far as I know, they grind the rubber particles there at the facility and I believe the tires come from American waste tires of some sort. Then they manufacture the material and ship it to New York.
GM: Going back to the prototypes, what was that testing process like?
Article continues below advertisement
I mean I really set out to see what I wanted to make for myself, in a way, because I was using [the rubber] on my desk as coasters already. Then I had this idea of making table sets and... because this material is used outside, I kind of figured it had a lot of resistant properties. I started testing it with heat and seeing if it could withstand putting a kettle that was just boiling on it. What would the effects of that be? And I saw that it was totally resistant to any kind of heat effects that were like, let's say in the range of what you might use it for in like kitchen and tableware.
So from that I basically made myself a collection that I would use at home to make sure that it was functioning properly, it didn't fall apart or it didn't stain anything or any of the sort of typical research that you would do on a new product to make sure that it's something safe to sell. So I would say from the tableware range, the first pieces were definitely coasters, any fun shape that could sit on the table, and then I wanted to get a little bit larger in scale. And so I started playing around with how I could use it in furniture pieces.
Article continues below advertisement
It has a very elastic, flexible nature to it and it can wrap around things. I kind of came up with the idea of using it in a cylinder and casting it with concrete. I needed something that was going to be rigid and strong that would adhere to it. And I had experience working with concrete in the past and so I had this kind of loose idea that maybe they would go together well. But there were a lot of different tests, many of which are just discarded prototypes, they were small little objects that I cast, where I put the rubber and the concrete together. Then eventually I went to a larger scale where I would sell side tables that we now offer, which are basically concrete and the exterior rubber and a brass inlay.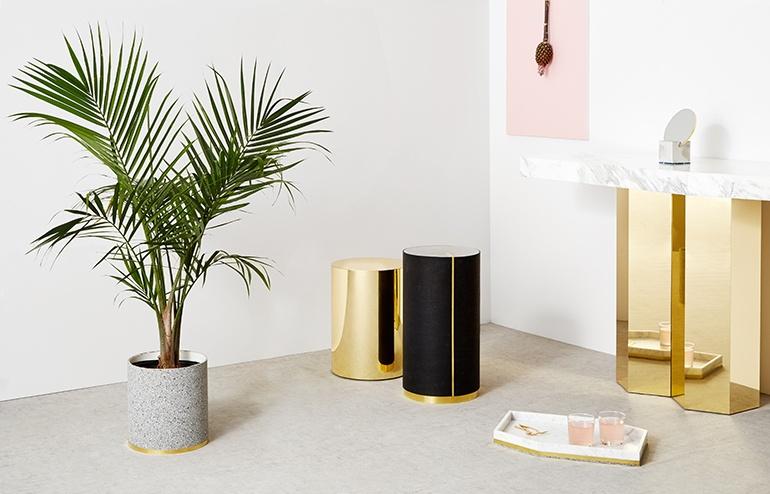 Article continues below advertisement
I basically developed the technique to cast those three different materials together and then also at the same time offset the weight on the inside so that they wouldn't be like 100 pounds. The first one was over a hundred pounds, very heavy to move, unmanageable, and so I had to figure out a way to lighten it up just for feasibility of making it, also for people to use it in their homes. So it was a process that took a number of months to refine and figure out how to lighten those in order for them to become more functional.
GM: Can you talk a little more about the other materials you use these pieces, besides the rubber?
Article continues below advertisement
AAL: Yeah, so one of the important aspects for me was to disassociate the rubber from what we traditionally were thinking of it as, which is this gym flooring. A lot of people when they encounter it, they're like, 'This is really familiar, I don't know why I know this.' So in order to decontextualize it, I wanted to pair it with really different materials and that's how I kind of came up with the idea of putting it next to brass and marble and concrete. Because you would never really imagine the rubber, like a rubber surface next to marble or next to polished brass.
And then I think the other important thing was that those materials I'm pairing it with would be these long-lasting, really kind of pure materials that can stand up to the longevity that the rubber has. So I started working with marble, and a lot of the marble that I work with is also pieces from larger slabs that got used partially for different countertops or kitchens or whatever. The yard usually has kind of a collection of these discarded pieces. And so I basically would tailor the design to fit into these discarded pieces so that you're making use of the whole material. Just being conscious of thinking about the waste material at the same time as I'm producing something new.
Article continues below advertisement
GM: Besides the recycled materials and local sourcing, can you tell me how else Slash Objects embodies sustainability as a company?
AAL: Yeah well, I think the general ethos is to use design as a tool to be very intentional and thoughtful about the way...about what we put into the world. So I think this first collection that uses recycled rubber is just one, kind of the first iteration of what that might mean in the future. But in general, I'm very conscious of what it means to produce because it has such a physical manifestation on the resources that we're using, the labor that we're using or exploiting many times. So the goal is really to, as a designer, be extremely intentional and thoughtful about the, just the way we make and envision the world.
Article continues below advertisement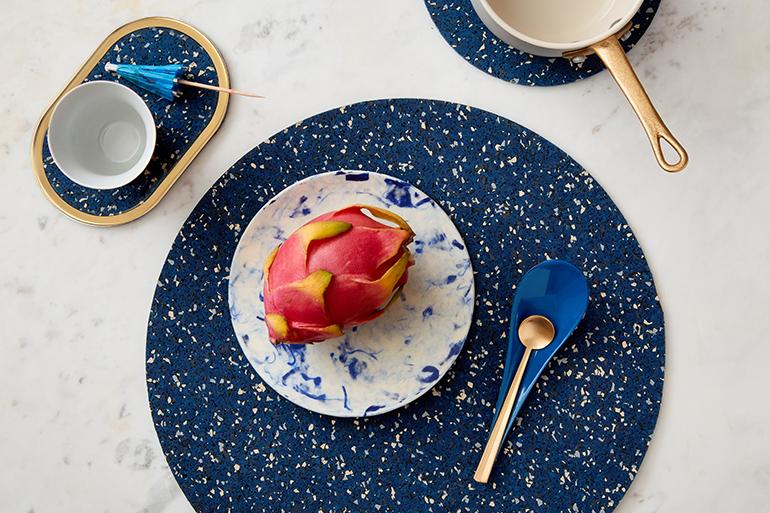 GM: What are your hopes and goals for the company moving forward?
AAL: So moving forward, we have our eye on another sustainable building material that we are working on at the moment in order to — we're still in the research phase, but I would love to really refine this next collection and come out with another range of products that similarly kind of a reappropriate an existing sustainable material and transform it into functional pieces that people can enjoy in a really new, kind of unexpected way. So we're trying to kind of break into other materials and other larger pieces as well.