The Impossible Burger Is Now Available At This Popular Chain Restaurant
The Impossible Burger — a popular plant-based "burger" — is now available at Cheesecake Factory.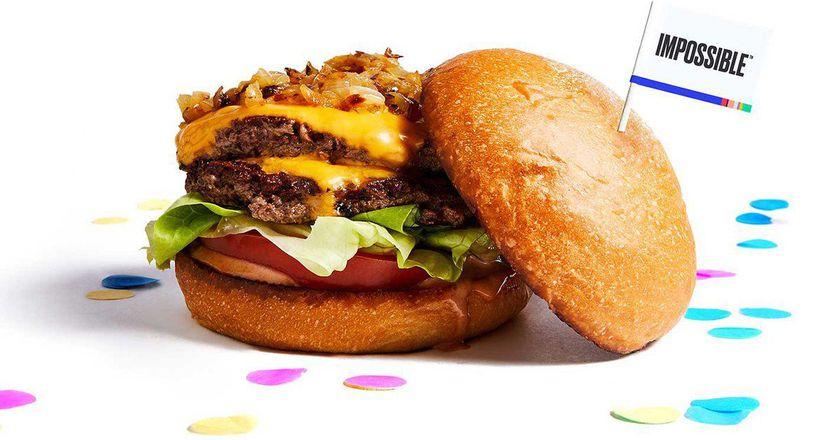 When you think of the food scene in Ohio, Pennsylvania, California, Georgia, and Texas, "vegan" might not be the first word that comes to mind. In fact, many of these states are often stereotyped for their traditional "American" fare. Think: meaty burgers, wings, lots of cheese, and potatoes. But diners in these states now have a unique opportunity: They get to try the famous bleeding, vegan Impossible Burger. Where? At select locations of a little restaurant known as The Cheesecake Factory.
Article continues below advertisement
The Impossible Burger's availability at a popular chain is a big deal. First, The Cheesecake Factory (and chains like it) make food accessible to populations who wouldn't otherwise get to try it. It's also a way to make plant-based food more familiar; you can try some of your partner's vegan burger, for example, or split a meat-free protein as an appetizer. Going to a chain restaurant where you already feel comfortable and trust the food makes it easier to take the plunge and try something new.
Article continues below advertisement
Of course, this lines up perfectly with the goal behind the Impossible Burger: making plant-based products taste just as good as meat. The Impossible Burger is a great bridge for people who love the taste and texture of real meat, and who aren't convinced by black beans and soy.
Just what is the Impossible Burger? The plant-based, vegan patty is made out of vegetables and other ingredients, including potato protein, coconut oil, and wheat protein. For the curious, soy leghemoglobin is the ingredient responsible for making the vegan patty "bleed" like real meat.
Article continues below advertisement
According to Impossible Foods, the makers behind the Impossible Burger, the burger "uses 95 percent less land, 74 percent less water, and creates 87 percent less greenhouse gas emissions," making it an ethical choice not just in terms of animal welfare, but for the environment, too.
Article continues below advertisement
At the Cheesecake Factory, the Impossible Burger comes as a vegetarian dish, not vegan. It's served on a brioche bun with lettuce, tomatoes, pickles, and a non-vegan special sauce. Select locations do have a vegan bun available upon request.
Other chains are picking up the Impossible Burger. Just this week, dozens of Applebee's locations in New York City introduced it to their menu, making it, in fact, their only veggie burger option. Fast-food chain White Castle offers the Impossible Slider in 140 locations across the East Coast, where they retail for just $1.99 per slider. Bareburger also offers the Impossible Burger, along with several vegetarian and vegan-friendly patty options.