How Sports Stadiums Are Becoming More Sustainable
Baseball and football teams like the Atlanta Falcons and Arizona Diamondbacks are making their stadiums more eco-friendly.
It's tough to be sustainable when you're housing 50,000 hungry people for three hours. Just as a concept, sports arenas are a massive drain on energy and resources. Think of all the plastics cups of beer and hot dogs in paper trays that get passed around baseball stadiums. Consider the big, blazing lights required to illuminate the football field. Add it all up and you have a pretty inefficient hub of activity, even if the fans carpooled over.
Article continues below advertisement
But several stadiums are working to reduce their impact. They're adding eco-friendly design touches and implementing better waste management systems, all in an effort to make their games a little greener.
Yale Climate Connections recently reported on the the solar-powered pavilion at Chase Field, home to the Arizona Diamondbacks. The structure provides fans with some shade near the entrance, all while generating clean energy for the grid — and it isn't the only eco-friendly feature of the sprawling stadium. Chase Field also boasts LED concourse lights, low-flow sinks, and EV charging stations. The concessions team saves the grease from their churro dogs and other treats, recycling it into a biodegradable diesel fuel.
Article continues below advertisement
But the Diamondbacks speak to a larger trend, which has been building for several years now. Last summer, the Atlanta Falcons and Atlanta United moved into the new Mercedes-Benz Stadium, the first outdoor stadium to win LEED Platinum certification in the U.S. The building achieved this distinction through its extensive collection of solar panels (4,000) and LED lighting (82,500 square feet) as well as its unique rainwater collection system. An enormous cistern sits on the stadium's street level, capable of collecting up to 680,000 gallons of stormwater that irrigates nearby vegetation and prevents flooding in surrounding neighborhoods.
Article continues below advertisement
While no other American arena boasts that stadium's LEED Platinum, many have some LEED credentials. According to the United States Green Building Council (USGBC), which awards these ratings, there are at least 30 LEED-certified sports venues open or under construction in the country.
Although many of these environmentally-minded stadiums turn to solar power, it isn't the only clean energy lighting up the field. In 2016, the Cleveland Indians invested in wind energy, pledging to power Progressive Field entirely through this renewable source.
Article continues below advertisement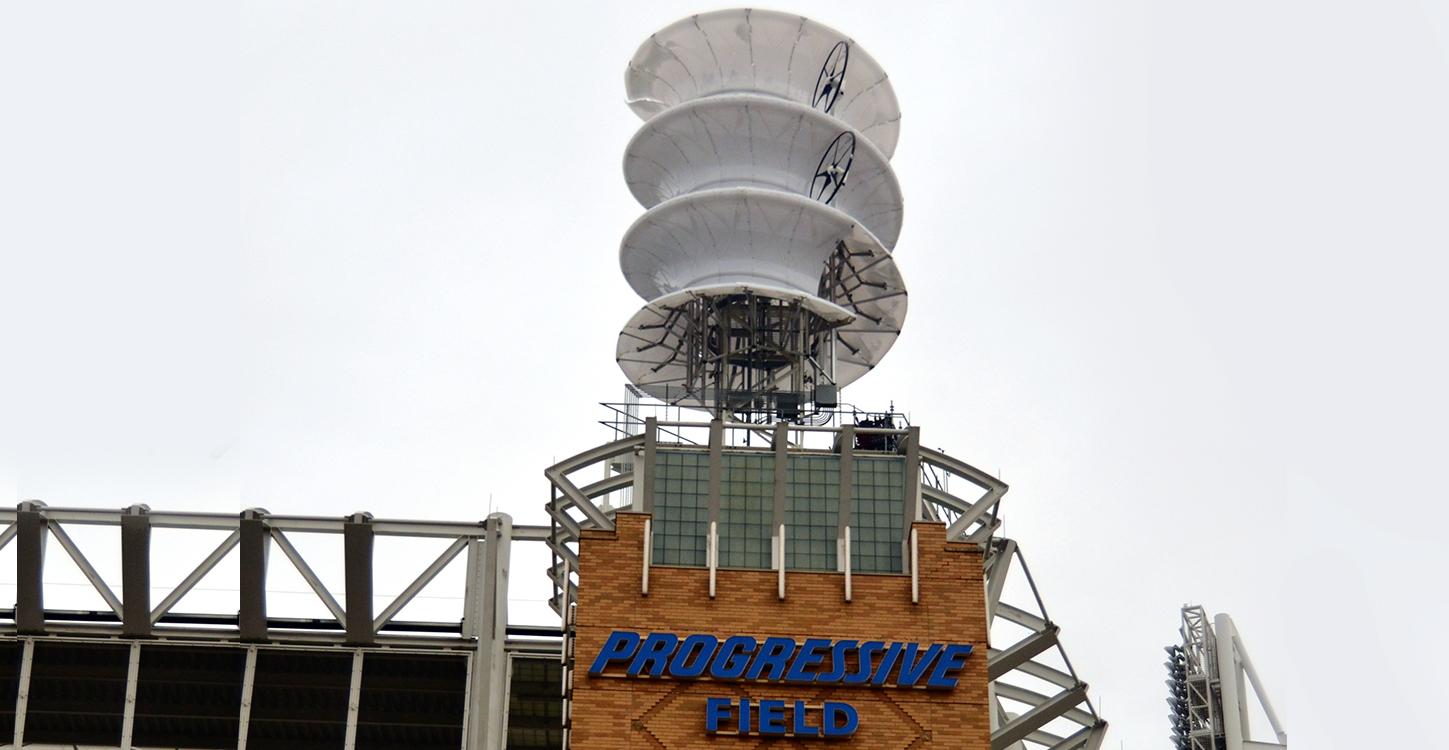 Plastic waste is another concern, one that venues like Target Field are tackling head-on. The staff at this Minneapolis stadium, where the Minnesota Twins play ball, ditched their plastic cups for compostable options and made sure to clearly mark the recycling and compost receptacles right next to the trash cans. It made a huge difference, resulting in 5,419 tons of waste diverted from landfills.
Article continues below advertisement
As sports stadiums continue to make tweaks to accommodate the planet, don't be surprised if you spy a hot dog in a compostable tray — or a wind turbine hovering just over home plate.
More from Green Matters: