Murder Hornets: Location, Why They Kill Bees, and What to Know From the Documentary
What states are murder hornets in? Following the Discovery+ documentary, many are looking to know more about the specimens that came to Washington in 2020.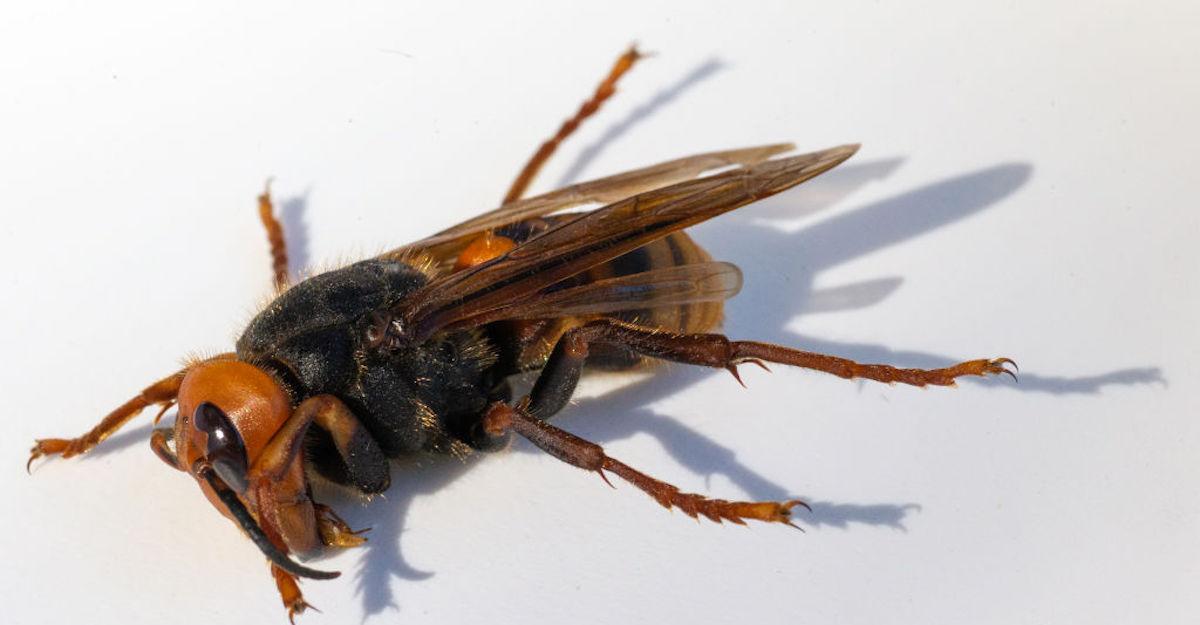 After spreading across the nation back in 2020, murder hornets became something that many U.S. residents sensibly feared. The giant, 2-inch insects are the largest wasps in the world, they kill bees, and they're able to kill humans with multiple stings. Murder hornets weren't detected in the U.S. prior to 2019, why which is Discovery+ recently unleashed a documentary about them.
Article continues below advertisement
If you're too scared to watch the murder hornet documentary, or if you'd like a little more information prior to viewing, we have the rundown on murder hornets: which states they've been found in, why they kill bees, and more on the Discovery+'s latest project.
Article continues below advertisement
Where are murder hornets located?
Although many of us were truly petrified by the untimely arrival of murder hornets — which was unfavorably around the start of the coronavirus pandemic — murder hornets have mostly been detected on the West Coast, according to Science News For Students. A handful of bee farmers in Washington were affected by the murderous stinging pests at the end of 2019 and throughout 2020, and a few nests were even found in parts of British Columbia around the same time. Trackers have since been working to trap them.
According to Nerdist, if the murder hornets aren't properly trapped, many believe they could spread across many parts of the U.S. To see how far they would hypothetically spread, scientists created a model based on climate conditions the bugs can withstand, and data based on how they invaded Europe, since they were discovered in France in 2003. The model showed the hornets traveling as far north as Alaska, and as far south as California, though it would take years for them to travel this far.
Article continues below advertisement
But how did the hornets, which are mostly native to Asia, arrive in North America? The answer is unclear, but in 2016, per Science News For Students, a package coming into the San Francisco Airport was flagged, as it contained a honeycomb nest filled with murder hornet pupae and larvae. Apparently, they're often soaked in liquor to ease arthritis, and although this wasn't the cause of their latest arrival, it's believed they could have been smuggled here for similar reasons.
Article continues below advertisement
Why do murder hornets kill bees?
As previously mentioned, murder hornets can kill humans with multiple stings, but they are usually most likely to kill bees. According to Earth Sky, honeybee nests have reportedly been demolished by giant hornets, because murder hornets kill several kinds of insects, and bring them back to their nests to feed their young. To combat this, beekeepers in Japan protect hive with wire screen nets. Nervous North American beekeepers can find similar structures at the hardware store.
Honeybees across Asia have adapted to these predators by "scorching" giant hornet intruders. Groups of bees surround an intruding hornet with their bodies, and flutter their wings quickly, raising the temperature in the center to 122 degrees Fahrenheit. In addition to the heat, this raises carbon monoxide levels which also kills the hornet.
Article continues below advertisement
What to know about Discovery+'s 'Attack of the Murder Hornets':
Discovery+ unleashed Attack of the Murder Hornets to the streaming service on Saturday, Feb. 20, chronicling the invasion of Asian giant hornets in the U.S., according to CNET. The doc, created by Michael Paul Stephenson, follows beekeepers, scientists, and government workers who are tracking the bugs before they become a widespread, nationwide issue.
Attack of the Murder Hornets combines real facts with intense dramatization, intense music, and quite a bit of information — if you can handle it. If it's going to give you nightmares, though, I'd probably skip out on watching. It would take years for a full-blown murder hornet invasion to take place, and while it's important to stay updated, it isn't something you need to worry about, especially right now.