Pope Francis Brought Oil Executives To The Vatican And Demanded They Switch To Clean Energy
Pope Francis invited oil executives to the Vatican, and insisted they switch to clean energy.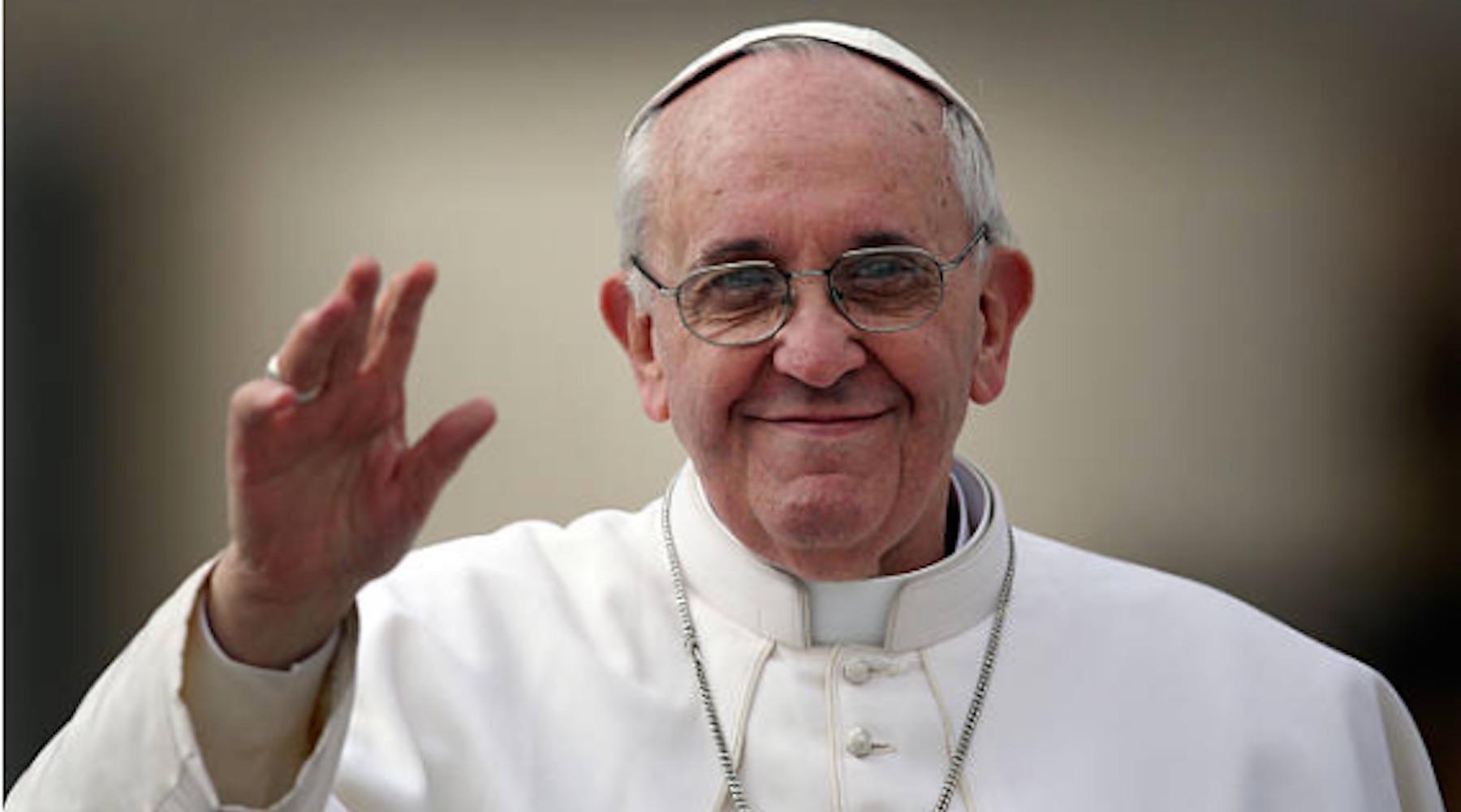 On Saturday, oil executives were the guest of Pope Francis at the Vatican, in a closed session at the Pontifical Academy of Sciences, according to Reuters. The head of the Catholic Church has a recommendation for the people making money off of oil and gas production—clean up, for the good of humanity.
Article continues below advertisement
"Civilization requires energy, but energy use must not destroy civilization," he said, reports The Guardian, calling climate change a problem of "epochal proportions." He asked that the executives move towards clean energy, as it's important for the world to have a mix of energy sources that fight poverty, pollution, and support social justice.
Amongst the oil executives were investors and Vatican experts, all of whom back scientific opinion that it is human activity creating climate change and global warming. Amongst those he addressed were the chairman of Exxon Mobil, chief executive of Eni, an Italian energy company, and also the chief executive of BP.
Article continues below advertisement
"We know that the challenges facing us are interconnected," said Francis. "If we are to eliminate poverty and hunger ... the more than 1 billion people without electricity today need to gain access to it."
"But that energy should also be clean, by a reduction in the systematic use of fossil fuels. Our desire to ensure energy for all must not lead to the undesired effect of a spiral of extreme climate changes due to a catastrophic rise in global temperatures, harsher environments and increased levels of poverty."
Article continues below advertisement
The meeting built upon a public letter written by Francis three years ago, in which he first addressed climate change and the global crisis we would all soon face if drastic and expedient action was not taken. He has also been a vocal supporter of the Paris Accord, which was entered into by nations around the world seeking to reduce their carbon emissions.
The Vatican meeting was his moment to press executives further, urging them to divest from oil. Though he commended them for certain measure, according to the New York Times, saying companies were "developing more careful approaches to the assessment of climate risk and adjusting their business practices accordingly," he is worried that this hasn't happened quickly enough.
Article continues below advertisement
"Will we turn the corner in time? No one can answer that with certainty," Francis asked. "But with each month that passes, the challenge of energy transition becomes more pressing."
He asked the executives in the room to step up and "to be the core of a group of leaders who envision the global energy transition in a way that will take into account all the peoples of the earth, as well as future generations and all species and ecosystems."
Article continues below advertisement
Francis placed special emphasis on how climate destruction disproportionally affects people in poorer nations, saying that making a transition to clean energy is "a duty that we owe towards millions of our brothers and sisters around the world, poorer countries and generations yet to come."
The Global Catholic Climate Movement has reported that almost a hundred Catholic institutions have divested from fossil fuels, removing their investment capital from stocks, bonds, or funds associated with the industry, all adding up to billions of dollars. Pope Francis clearly has more than just a voice to add to the clean energy movement.
Article continues below advertisement
At this point, even the companies making money off fossil fuels have admitted a need for transition. The New York Times reports that on Thursday, Norwegian oil giant Equinor, released a report urging a faster transition to renewable energy, suggesting creating plans more in line with the goals of the Paris agreement.
"The climate debate is long on targets, but short on action," the company wrote. "We believe it's possible to achieve climate targets set out in the Paris agreement, but that requires swift, global and coordinated political action to drive changes in consumer behavior and shift investments towards low carbon technologies."
Article continues below advertisement
In fact, much of the debate has centered around the speed with which these changes need to be made, rather than the need for them. Those who are more skeptical about climate change, or who have a great deal to gain via fracking and other fossil fuel drilling, are willing to wait longer before taking action.
"We received the earth as a garden-home from the Creator," Francis said. "Let us not pass it on to future generations as a wilderness."