This Dutch Designer Is Using Wastewater To Create Sustainable Urns
Dutch design studio, Studio Nienke Hoogvliet, has created a sustainable urn out of a mix of bioplastic formed from wastewater and the ashes themselves.
As eco-conscious citizens, we spend our lives attempting to make choices that lessen our environmental footprint and promote sustainability. But we often forget that our impact on the planet doesn't stop after death. In fact, the conventional methods for interment—cremation and burial—are environmentally detrimental, causing pollution above and under ground and wasting natural resources.
Article continues below advertisement
To combat this and other environmental issues, Dutch design studio Studio Nienke Hoogvliet has created a sustainable urn out of a mix of bioplastic formed from wastewater and the ashes themselves to create not just a vessel for a loved one's remains, but an object "that can be given back to nature as a whole," as studio founder Nienke Hoogvliet put it on her website.
Called Mourn, the design project uses a method developed by the Dutch Water Authorities to turn bacteria found in sewage water into polyhydroxyalkanoate, or PHA, a bioplastic that functions like regular plastic but is completely biodegradable—small organisms in soil can feed on the material, meaning it decomposes a lot like wood.
Article continues below advertisement
The bacteria that forms the basis of the material is initially put into the sewage water to purify it, but remains after the water becomes waste. While cleaning the water, however, the bacteria turns into a fatty acid, which can be transformed into a bioplastic.
Article continues below advertisement
Using this material for an urn is attractive on several fronts. For one, it puts to use a material made by closing a waste stream, while also offering an alternative to more unsustainable ash receptacles, which are often made from plastic or natural resources like wood and marble. Additionally, by using the ash as part of the object itself, the ashes aren't absorbed by the soil all at once, which makes it easier for the soil to process the residual toxins left over from the body in the ashes.
"Our body is a trash bin," Hoogvliet writes. "During our lifetime, we collect waste substances in our body that we can neither use, nor process further. Due to this, our remains can become a threat to our environment."
Article continues below advertisement
The conventional burial methods used around the world today don't help with this, either. Every year, the use of caskets causes 30 million feet of hardwood, 180 million pounds of steel, and 5.4 million pounds of copper and bronze to be buried underground in the U.S. alone, according to a Cornell University study, subsequently polluting the earth. On top of that, 827,060 gallons of embalming fluid are buried, too, large amounts of which enter the water supply. Cremation isn't much better; the act of cremation releases the equivalent of 41,040 cars worth of carbon dioxide into the atmosphere every year, according to the Funeral Consumers Alliance, and, as Hoogvliet points out, scattering and burying the ashes causes ground and water pollution.
Article continues below advertisement
"One of the biggest issues is that the nutrients and toxins are immediately available for the soil to process when the ashes are scattered," Hoogvliet says. "To reduce the negative impact of toxins and nutrients, their release should be slowed down and regulated."
Combining the ashes with PHA helps this process, but Hoogvliet also incorporated the idea of slow absorption into the design of the object. Soil processes nutrients at different rates depending on whether it is rich, poor or over-fertilized, so Hoogvliet designed three shapes for the urn, all of which break down at different speeds to suit each soil type. A solid shape will take longer to decompose, a slender shape will go quicker and so on.
Article continues below advertisement
"This way local soil, flora and fauna can process the substances in the ashes at their own pace, so you can give yourself or your loved one back to nature in a responsible way," she said.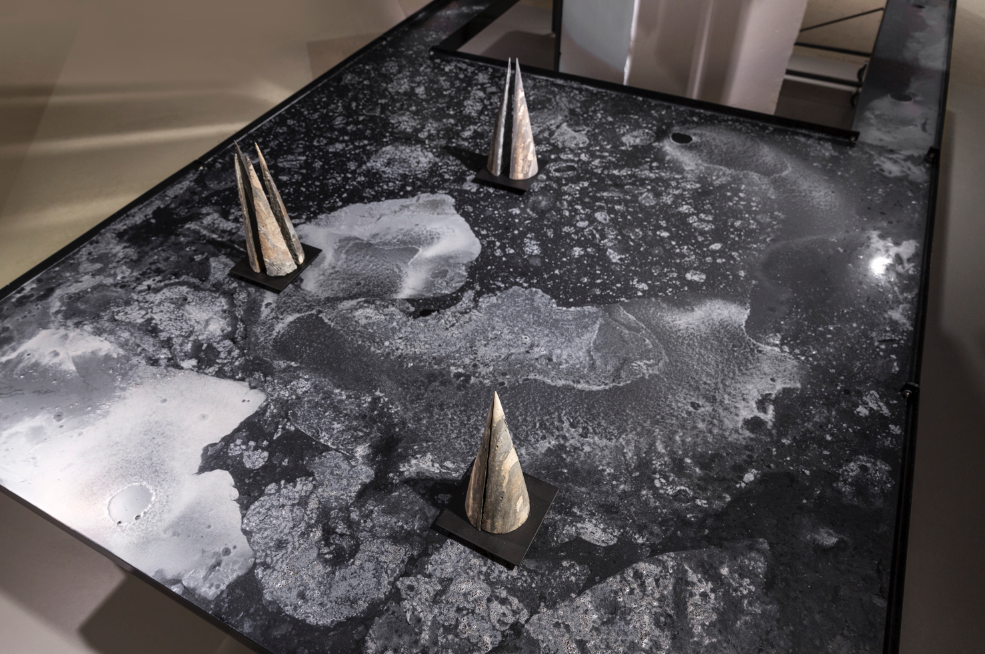 Article continues below advertisement
"I hope people understand that PHA is a special material, and also that a new view on wastewater emerges, that it's not only waste but a new source of raw materials," Hoogvliet says in the above video. "Also, that we can look in the same way at ash—cremation ash—and that people understand that we can give ourselves back to nature in a better way."