12-Story Wooden Building In Portland Will Be Nation's Tallest
a wood building in portland is set to become the tallest wood-made structure in the US.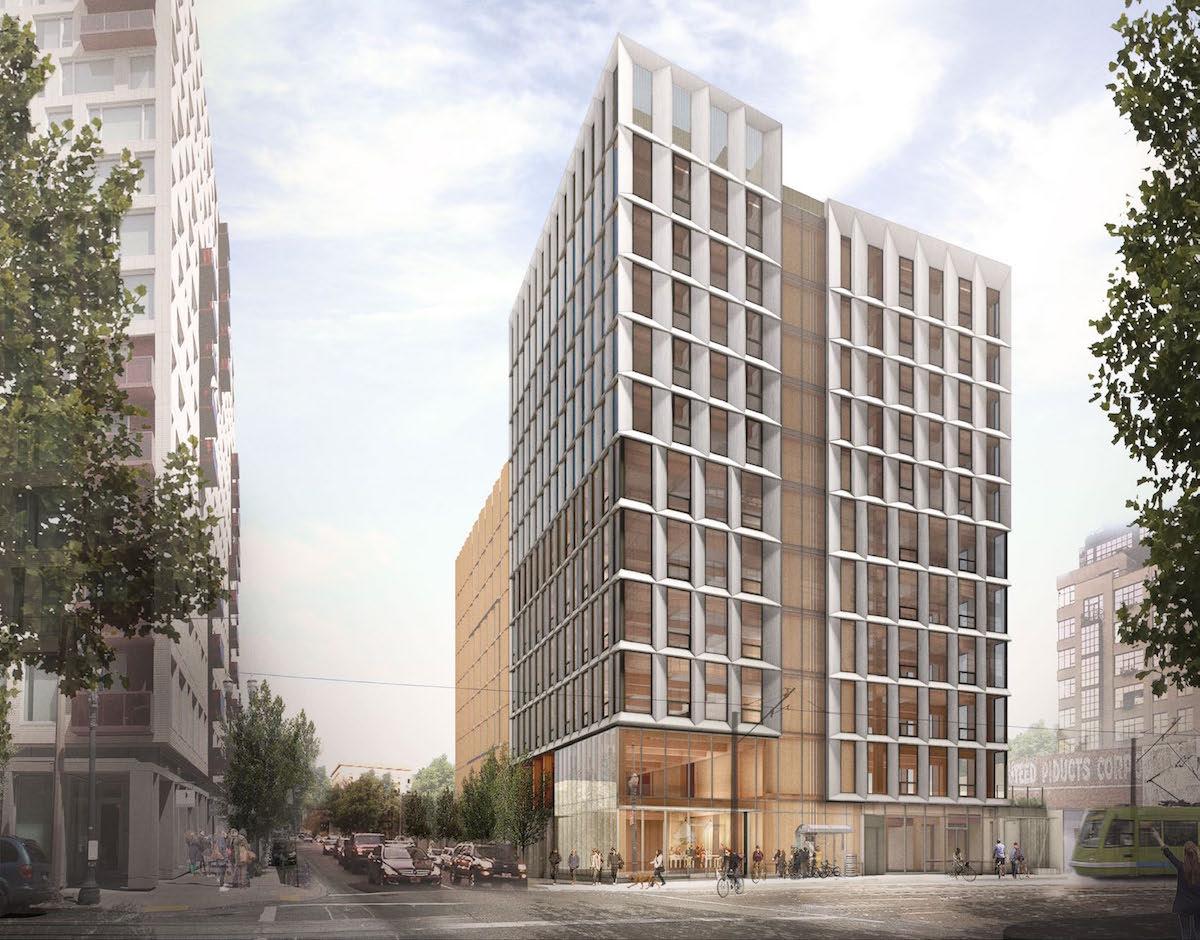 In 2015, the Re-Think Wood Initiative (whose purpose is to encourage sustainable urban development in North America) announced a Tall Wood Competition, wherein designers could submit their plans for sustainable, wooden buildings. The winning design would be granted a 1.5 million dollar award, allowing the project to be brought to life. Builders are now set to begin construction on the winning design, entitled Framework, in Portland Oregon this fall.
At 12 stories and 90,000 square feet, Framework will be the largest wooden building in the United States. Sometimes referred to as a "plyscraper", this innovative building is due to house retail shops, five floors of office space, five floors of apartments and a rooftop amenity space. Almost half of the building will be dedicated to affordable housing for mid-income level Portlanders, provided by Home Forward.
Designer Thomas Robinson of LEVER Architecture has no plans to hide his building's innovative use of wood from the public. His design leaves much of the material exposed in full view. In fact, one of the purposes of Framework's design, according to Re-Think Wood's website, is to "communicate at street level the project's innovative use of wood and engineering technology in the development of a tall wood structure."
Article continues below advertisement
Why is the use of wood important in buildings, like Framework? Simply put, building with wood is far better for the planet than conventional building materials. Cement, still the most commonly used material for large buildings in the U.S., is responsible for about 5% of all global CO2 emissions.

For every ton of cement made, one ton of CO2 is produced. Framework is made primarily of cross-laminated timber, or CLT. This material is similar to plywood, but far stronger due to the way it is manufactured, as lumber panels are layered at 90-degree angles and glued together on their wide faces. Because CLT is prefabricated, just like concrete, buildings using CLT are able to be built quickly, reducing the environmental impact of running construction equipment.
According to Judith Sheine, department head of the School of Architecture at the University of Oregon, the advantages of CLT over more conventional materials are numerous: "The advantage of CLT over concrete is that it's lighter, so it goes up easier and faster than concrete does … it's also quieter in construction. And if you have to make tiny adjustments, it's possible to do with wood and it's not really possible with concrete."
Article continues below advertisement
Re-Think Wood is currently monitoring progress on several wooden skyscrapers around the world, similar to Framework. If those projects are anything to go on, Framework's positive environmental impact could be huge. Their 10-story CLT Forte building, in Melbourne, Australia is expected to use 1400 metric tons less carbon than a building of similar size made from concrete and steel. Current estimates are that Framework will save around 1,824 tons of carbon dioxide from entering the atmosphere. That's equivalent to removing 384 cars from Portland's roads for an entire year!
It's not hard to imagine that sustainably-harvested wood materials, like CLT, could be a game changer for cities looking to expand, over the next several decades. A rise in demand for materials like CLT could help bring jobs to struggling rural areas, by encouraging the use of mills. According to Framework's designer Thomas Robinson, keeping CLT manufacturing local could prompt people to think of city construction in whole new ways--ways that they currently only think about food.
"In the future Portland is going to expand dramatically and wouldn't it be revolutionary to be able to actually grow those buildings within a couple hours of the city itself? I think it's analogous to the farm-to-table movement."
For their part, the landowner's of Framework's project site, Beneficial State Bancorp, are excited for the project to break ground. "We consider Framework to be a totally transformative, mission-driven project that will promote social justice, environmental well-being and economic opportunity at the building, regional and national levels," said Kat Taylor, Bancorp's President. Anyeley Hallova, another project partner, believes that Framework will help to change people's attitudes about the use of wood products in city construction projects, and help rural communities that choose to manufacture such products.
"The relationship of our cities to our rural communities, what we call 'forest to frame,' is strengthened by Framework. On a national scale, this project will be catalytic, leading to more tall wood buildings, driving more wood products and wood product innovation, and boosting rural economic development."