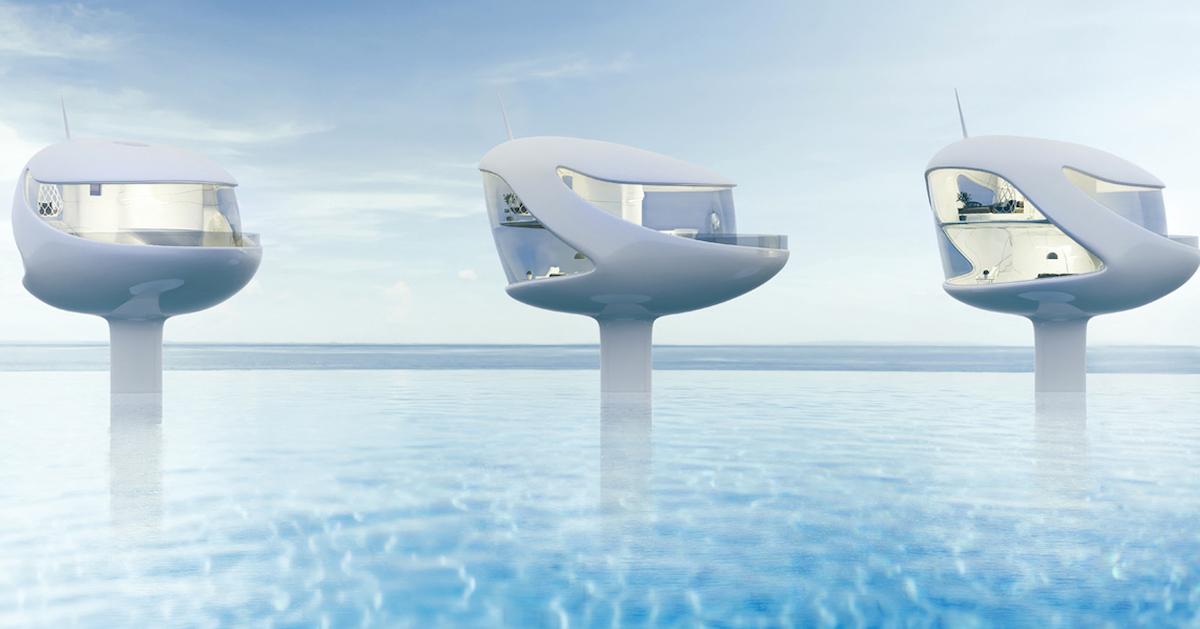 What Are Floating Homes? These Houses Can Foster a Sustainable, Communal Lifestyle
The pandemic inspired a lot of people to change up their living situation, whether that meant moving somewhere with a yard, embracing a nomadic lifestyle filled with international travel, or getting into van life. But there's another new way of life that is springing up — in the ocean, of all places — called floating homes.
Keep reading for a look into floating homes, how they claim to be sustainable, and how to find floating homes for sale, in case this lifestyle floats your boat.
Article continues below advertisement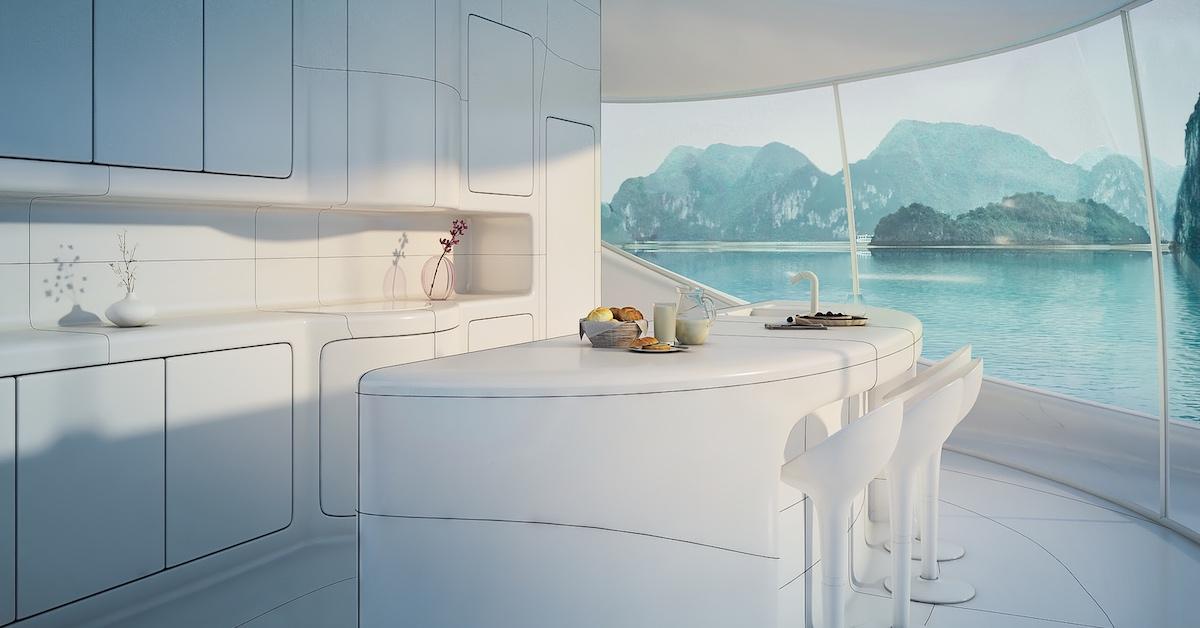 What are floating homes?
Floating homes are pod-style homes that are permanently erected on a body of water. These homes appear to be floating, but they are actually stabilized by long legs and/or a buoyant base.
Article continues below advertisement
For instance, the Panama-based company Ocean Builders' SeaPods "float" thanks to 1,688 cubic feet of air-filled steel tubes, which cause so much buoyancy that it can hold the SeaPod up about 10 feet above the water's surface, making the house feel stable.
This makes the homes more weatherproof, and means they cannot glide away when strong winds, hurricanes, or rainstorms strike, unlike houseboats.
Like with any other house, the materials used to make it and how durable it is will affect how sustainable a floating house is in the long run. But in general, building a floating home can be more sustainable than building a standard house, because it disrupts nature far less. That's because no land needs to be cleared, and habitats are not disturbed (or at least, they are disturbed far less).
Article continues below advertisement
Floating homes can range in size and quality, just like any other home. Some are just a few hundred square feet and only have the basics, while others have multiple bedrooms and feature amenities such as saunas, hot tubs, outdoor spaces, heated floors, and fireplaces. Most floating homes are equipped to support all the comforts of home, from gas to Wi-Fi. Some resemble typical houses, while others look like futuristic pods (more on those below), and some are more bare bones.
Tom Hanks once owned quite the floating home in a gated community in Alameda, in California's Bay Area. The floating house has two bedrooms, 1.5 bathrooms, hardwood and tile floors, custom walnut finishes, and it most recently sold for $1.67 million in 2021, as per Realtor.com.
Article continues below advertisement
Floating homes for sale — how to find your dream floating home in Portland, California and more:
Floating homes are typically part of floating home communities — in fact, that is what inspires some people to move to a floating home. In a 2018 profile on floating homes by CNN, Michele Affronte, who lives in a floating home community in California's Richardson Bay, explained that she "fell in love with the community," and that "you buy a floating home for the nature, adventure and community."
Article continues below advertisement
In the U.S., it seems like most floating home communities are located in the Pacific Northwest, California's Bay Area, and Massachusetts. If you have an area in mind, you can use Google or real estate websites to find floating home communities in the area, and see what their application processes are like; or, you can work with a realtor in your desired state, who will be able to show you floating homes available for sale or rental.
Article continues below advertisement
Ocean Builders is making modern, affordable, pod-like floating homes:
You can also find your dream floating home via a company constructing floating homes, such as the above-mentioned Ocean Builders. The company is currently building floating homes called the SeaPod and SeaPod Eco, which sit above water. The homes feature about 800 square feet of living space, three "half floors," modern appliances, and are a "360-degree view premium oceanfront property wherever they are."
Ocean Builders is also working on the GreenPod and GreenPod Eco, which are essentially floating houses that float above land instead of water. These "futuristic treehouses" are "designed to coexist with nature" without causing harm.
Article continues below advertisement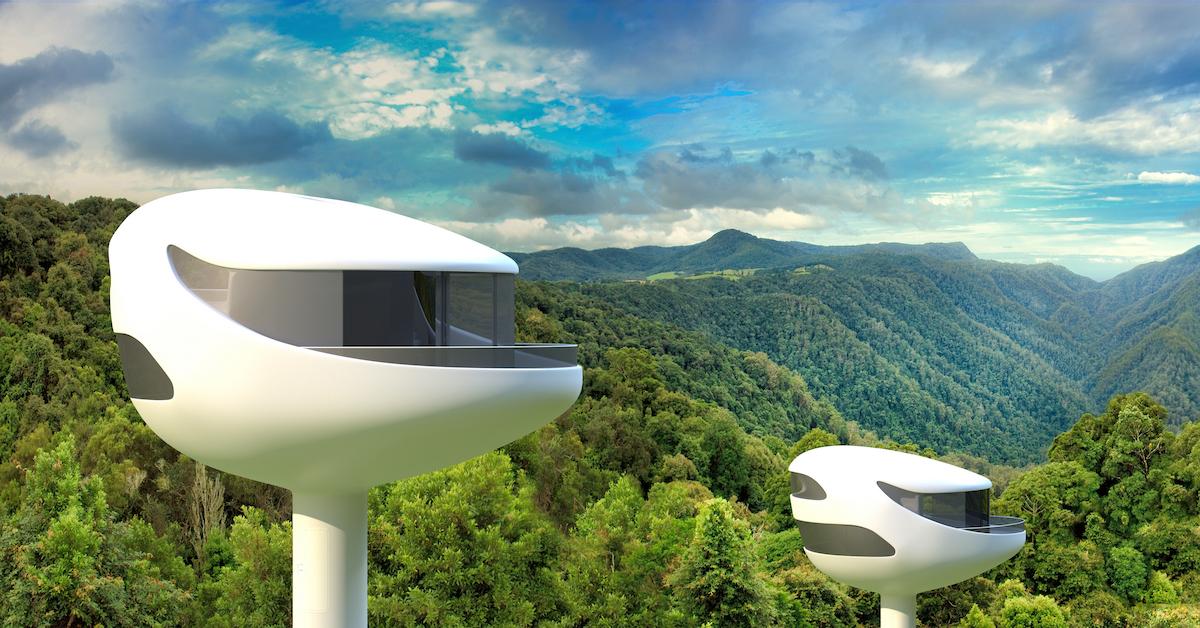 According to USA Today, the two Eco pods have rain-collecting roofs, bigger windows, but a slightly smaller floor plan; the Eco models can also be shipped via container to wherever you'd like to live.
Ocean Builders' floating homes are currently in production, with initial communities set to spring up in Panama. You can reserve a pod on the website. The two Eco homes will cost $295,000, and the GreenPod and SeaPod will cost $395,000; there will also be rental opportunities.