How To Make DIY Slime With Super Safe Ingredients
Learn how to DIY slime in your home — with only the safest ingredients.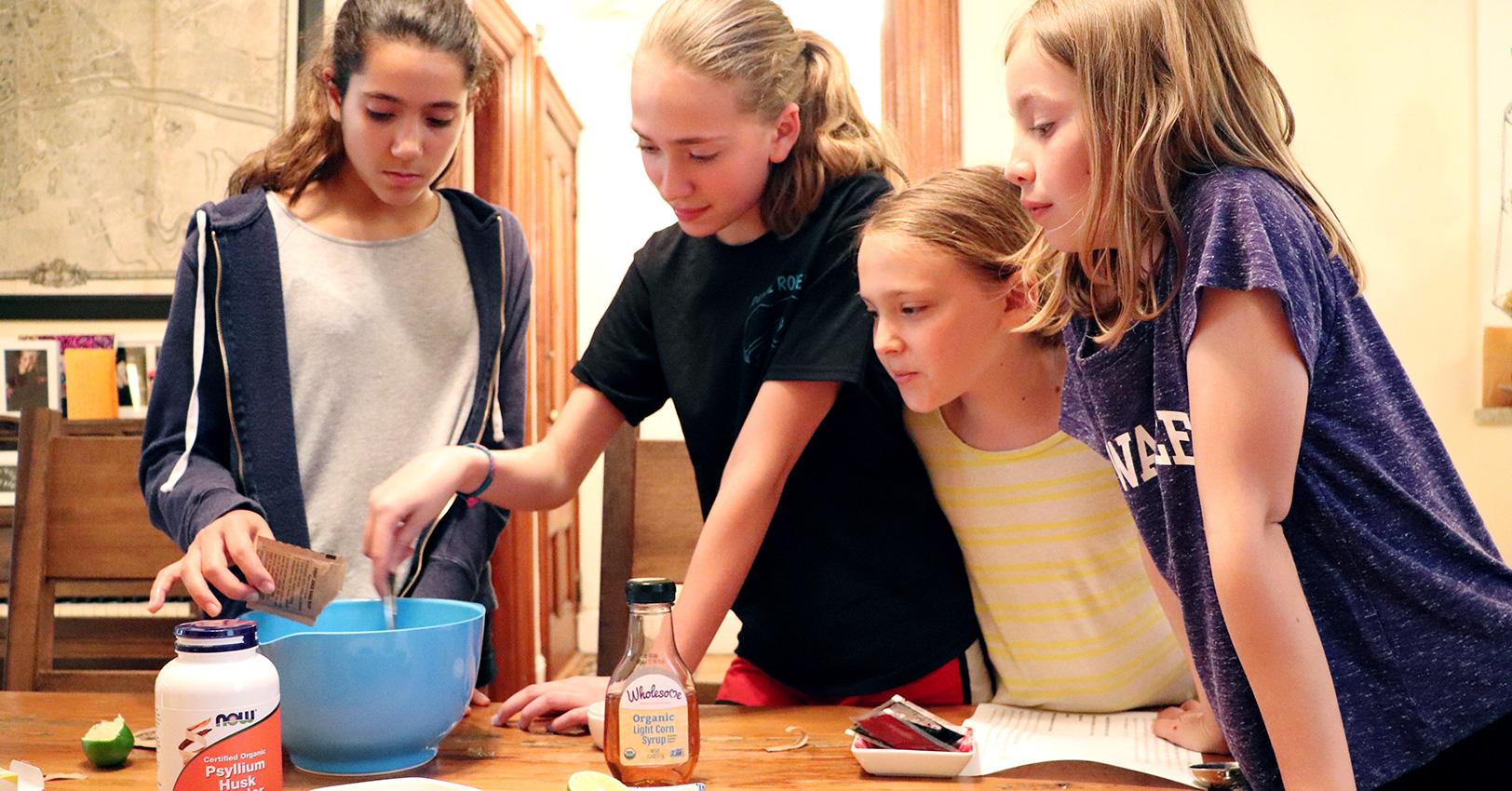 Chances are if you have or know children between the ages of 8 and 15, you have experienced them making and playing with slime. It is amazing how this ooey-gooey trend seemed to pop up overnight, and doesn't seem to be going anywhere anytime soon, other than all over your bathroom floor.
Article continues below advertisement
In many aspects slime is an excellent activity: There's a cool science element, it's a hands-on learning opportunity; slime provides sensory benefits and is a calming substance — part craft, part stress ball. It's also most often a shared activity that does not involve electronics, other than looking up a recipe.
However, many slime recipes call for ingredients that are potentially harmful, the most prominent being borax (aka sodium borate), which if not diluted properly can lead to skin irritation or even burns. There are several other ingredients commonly used to make slime that — with regular exposure — could be worrisome to parents.
Article continues below advertisement
We tested out three non-toxic slime recipes and share them with you here, so your children can enjoy the wonderful experience of slime worry-free.
Oobleck or Non-Newtonian Slime
With just two ingredients, this is one of the easiest, cheapest, ways to spend a couple of quality hours with your kids. This was also the most fun (and the messiest) of the three. It was pretty easy to clean up though, as once dry the cornstarch turns back to powder and can be easily vacuumed. And all of the kids helped!
Article continues below advertisement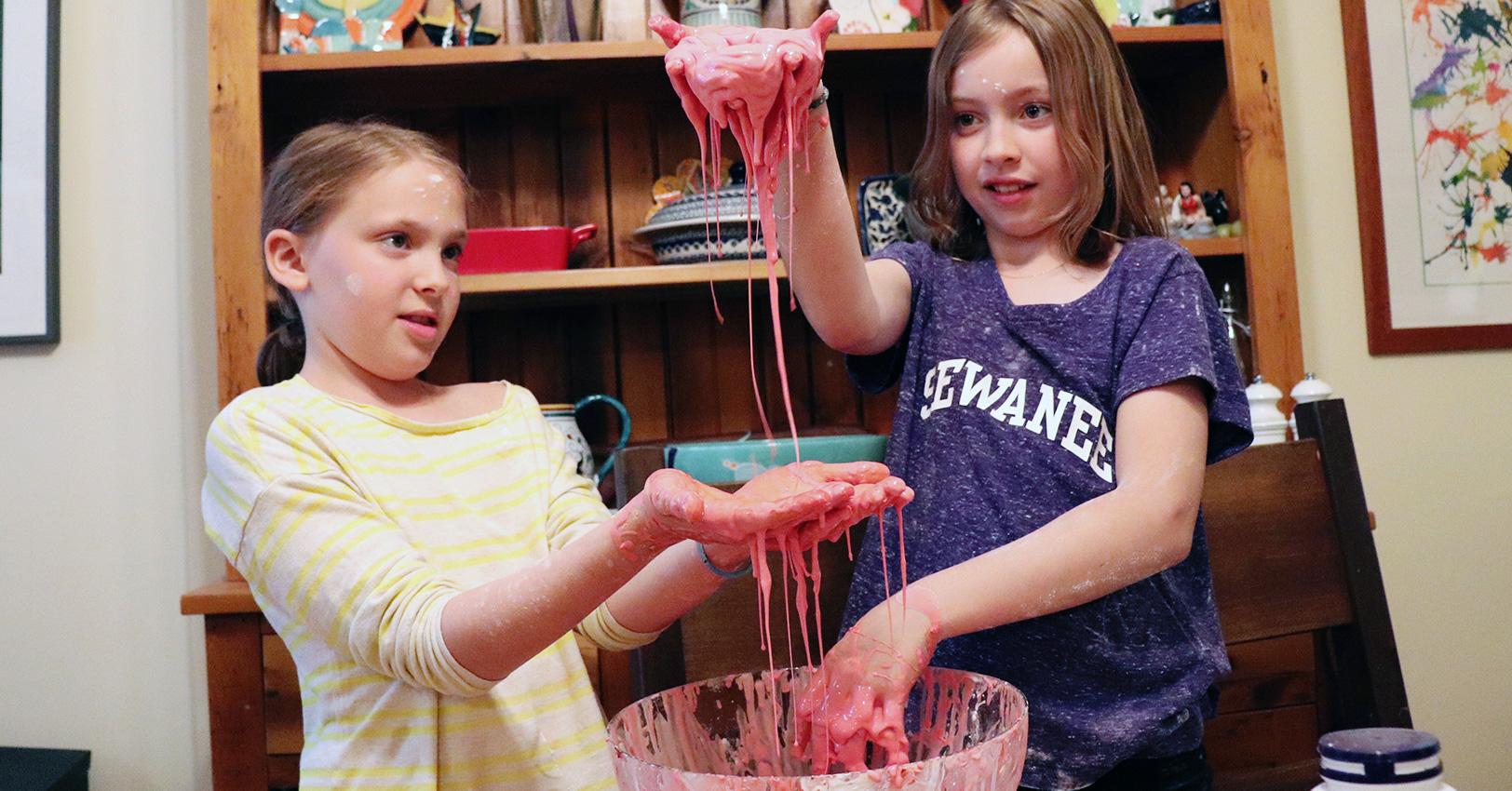 Corn starch
Water
Food coloring or tempera paint (optional)
Start with 1.5 cups of cornstarch in a large bowl. Add 1 cup of water. Use your hands to mix, as it is more fun and will give you a better feel for when it is ready. Experiment to find the proper consistency—the best test is to grab a handful and see if you can roll it into a ball between your hands — if you stop rolling and it melts into liquid, oozing through your fingers, you did it!
Storage: To store Oobleck, let it dry out in a bin open to the air, then refresh it with water when ready to use again. When you are ready to dispose of it, make sure you do NOT dump it down the drain, which could get clogged. The best thing to do it dump the powder into your compost, or even mix it into the soil in your garden.
Article continues below advertisement
The science behind it: Named for the Dr. Seuss book, Bartholomew and the Oobleck, this slime ignores Sir Isaac Newton's Law of Viscosity, which states that a fluid's viscosity can only be changed by a change in its temperature. Oobleck's viscosity depends on force, not heat, so the Oobleck is solid when you squeeze it and turns to liquid as soon as you let go. This works because when you squeeze, the particles of cornstarch come closer together and trap the water between them; when you release pressure, the water fills the space between the cornstarch particles, and your slime becomes liquid again. This was just about the coolest thing in the world.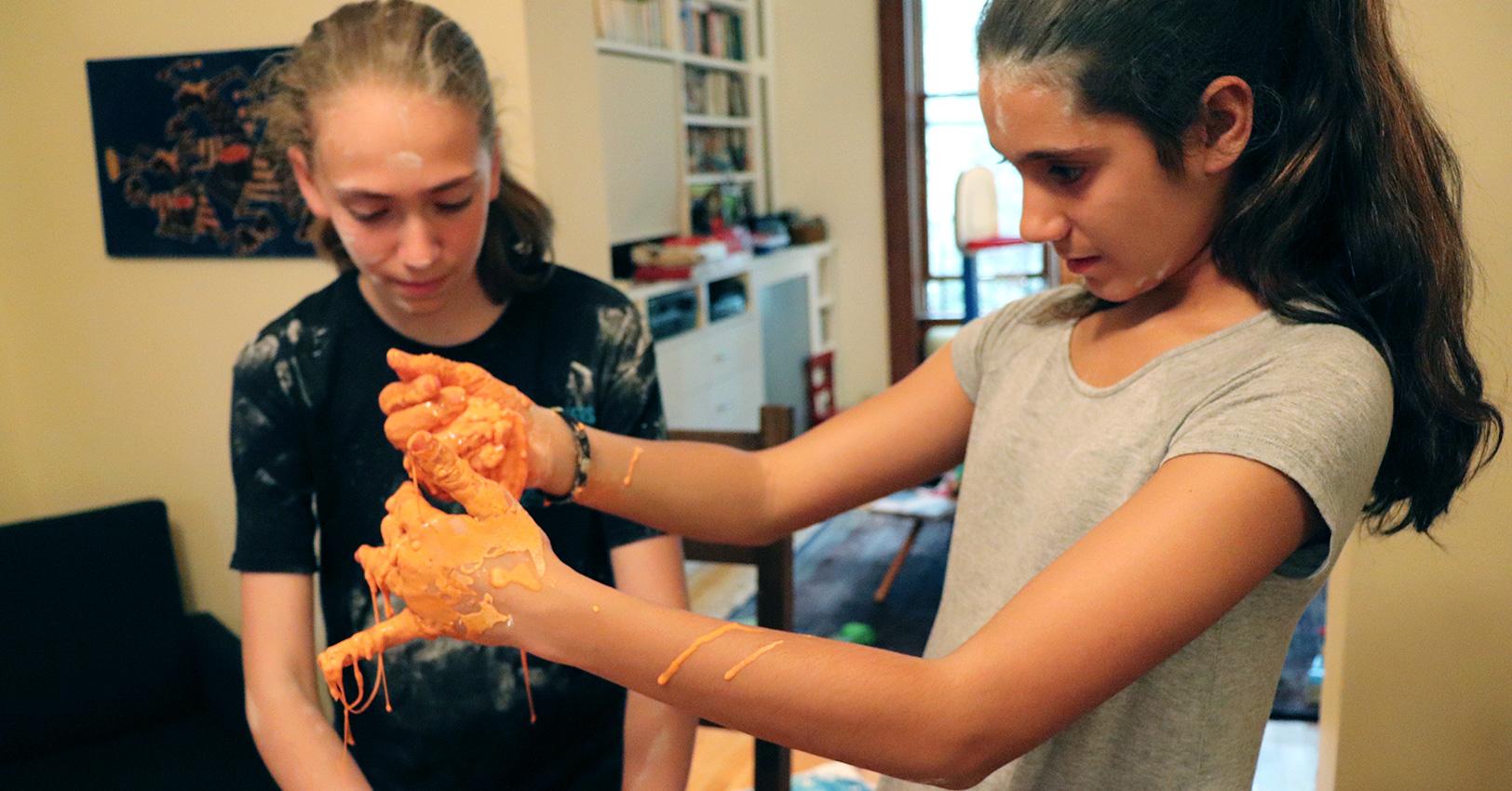 Article continues below advertisement
Psyllium Husk Slime Recipe
This one was super easy to make and a lot of fun too. Psyllium husk powder can be bought at your local health food store. It is also the main ingredient in Metamucil, which (as many formerly pregnant moms may recall) is a laxative. So you can use that instead, just note that your slime will be orange.
Psyllium husk powder
Water
Food coloring (I like to use consumable food dye, just in case the stuff makes it into small mouths.)
Add 1 TBSP of psyllium husk powder to a microwave safe bowl. Add food coloring is you are using it. Add 1 cup of water. Whisk ingredients together. Microwave for five minutes. Be sure to let it cool before little hands dig in.
Storage: Store it in an airtight container in or out of the fridge.
Article continues below advertisement
The science behind it: Psyllium husk and water thicken when heated, and the water is absorbed, creating a flubber-like substance that has the advantage of not sticking to hands.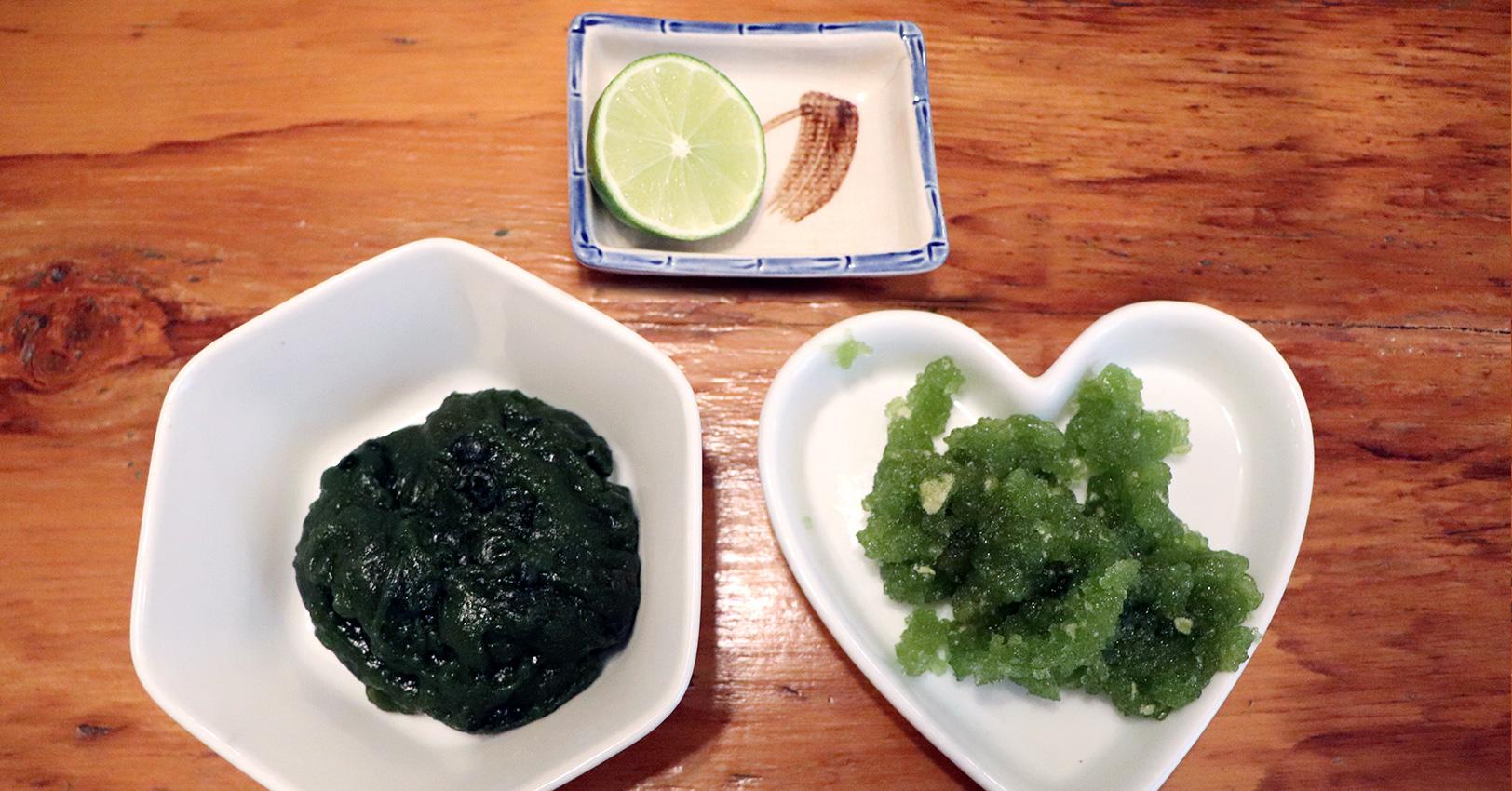 Article continues below advertisement
Fake Snot Slime
What kid wouldn't want to make something that looks and feels like snot? It's fun, simple, and perfectly disgusting! This one is even edible, or at least taste-safe, though I wouldn't say it tastes good by any (mucous-like) stretch.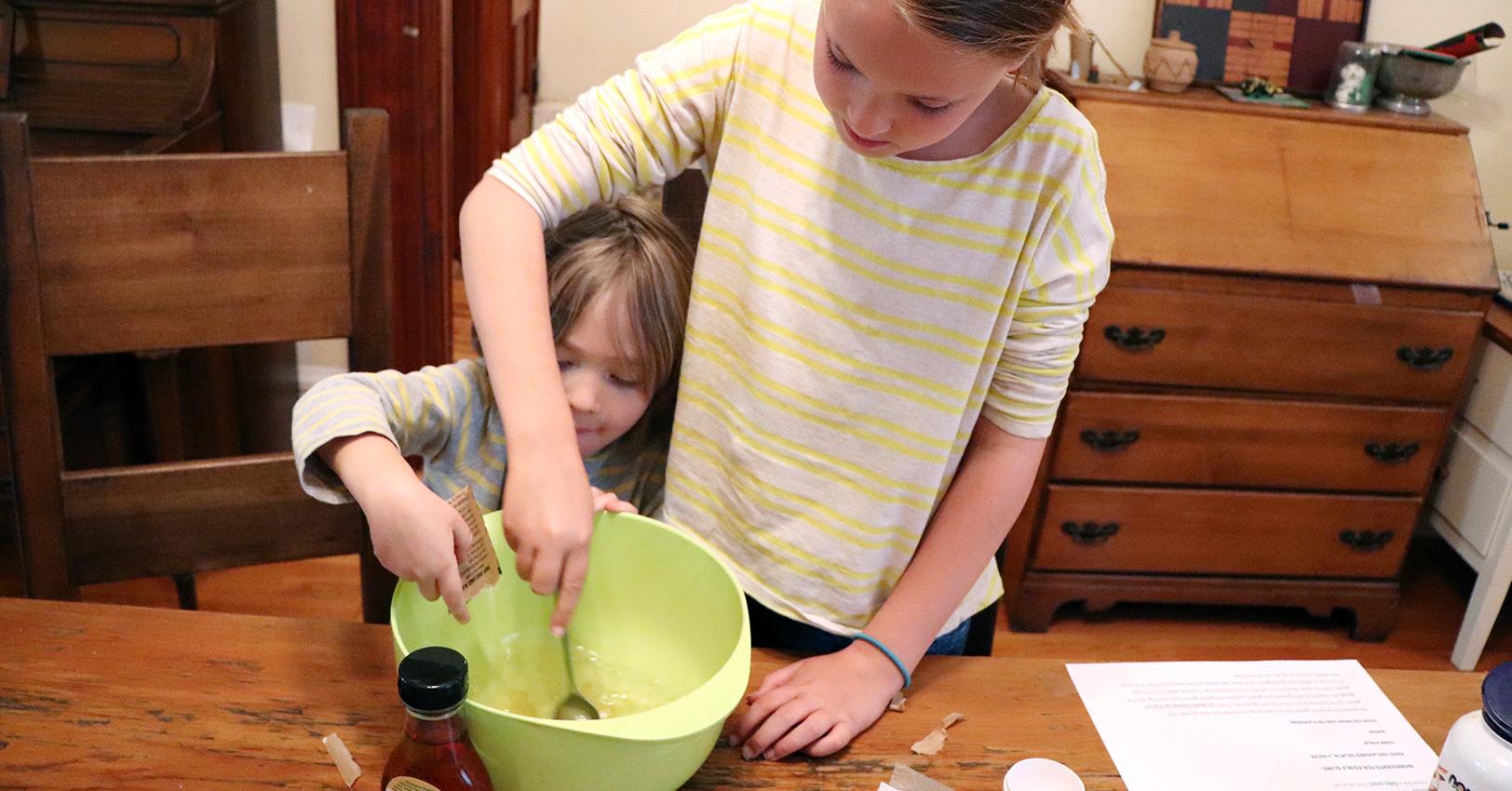 Article continues below advertisement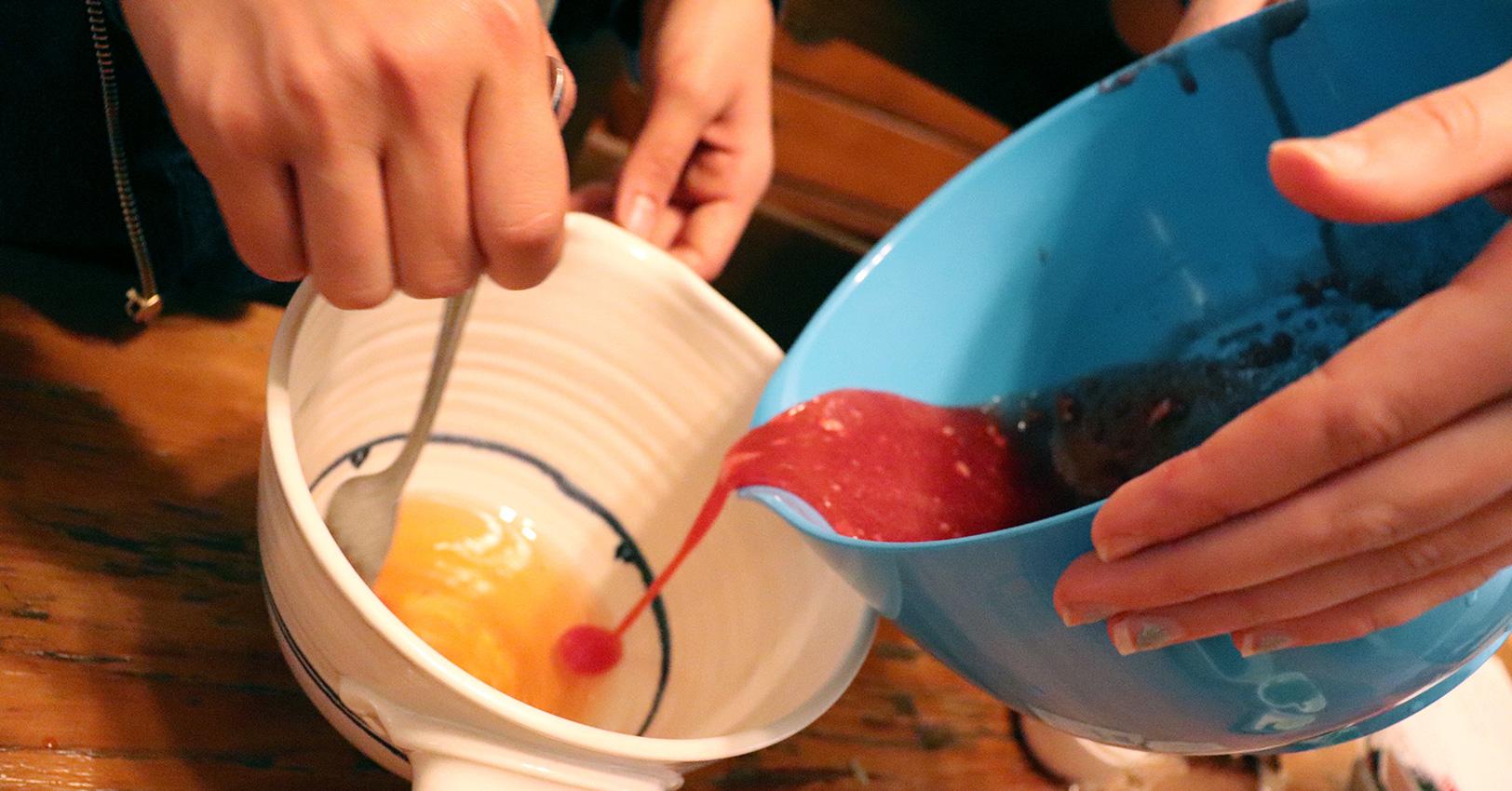 Unflavored gelatin
Water
Corn syrup
Food coloring
Mix ½ cup of boiling water and three packets of unflavored gelatin, and the food coloring, in one bowl. Add the gelatin in slowly to prevent too much clumping. Let it stand for five minutes.
In a separate bowl, measure ½ cup of corn syrup. Slowly add the gelatin mixture to the corn syrup until you find the consistency you want for your snot-like slime. In our experiment, we added fresh lime juice in the hopes that it would smell and taste better. This worked a little, though it still didn't smell or taste great.
Storage: Store it in an airtight container in or out of the fridge.
Article continues below advertisement
The science behind it: The mixture of water and gelatin makes a polymer, which is a large molecule made up of many smaller molecules layered together in a repeating pattern. The proteins in the gelatin combine with the corn syrup to form gooey strands that resemble your snot. Play around with different amounts of corn syrup to check out different textures.
Now you can jump into the messy world of slime, knowing that your kids are getting down and dirty in an environmentally safe and sustainable way!