You Can Now Order Custom Tiny Houses To Anywhere In The World
Tiny homes are the new craze and it is now easier than ever to order them no matter where you want to live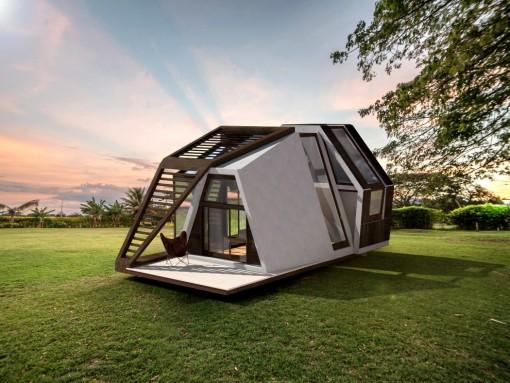 In our age of minimalism, many of us are hungry for the chance to downsize in every way we can: Less clutter, less old clothing stuffed in the back of our closets, and sometimes, even less living space. Tiny houses are an interesting phenomenon in that they offer an ideal standard of living, just in a very reduced space. Of course, a big barrier many of us feel when it comes considering a tiny home is purely a practical one: If I don't know how to build my own, or I simply don't have the time, what options do I have?
Article continues below advertisement
Luckily, you're not out of luck. This tiny house, called a "Mobile Home," was designed by Ruzanna Andressa Oganesya and intended so you can order a customized tiny house to literally anywhere in the world. Similar to how you can have a team build you a traditional home on your own plot of land, you can have a personalized tiny house delivered to wherever you'd like to settle down.
Now, when we talk about "tiny," this house is no joke. It's approximately 150 square feet, so clearly best if you're living solo or with just one partner. The house is covered almost entirely in glass panels and has a lovely design, making it a home you can definitely be proud to live in. There's even an open-air deck that makes it easy to have friends and family over to socialize while enjoying the nature around you.
Article continues below advertisement
Even better? These tiny homes even come with furniture. That's right: You can literally select the perfect furnishings for your tiny home, knowing full-well that they'll fit like a glove.
Unsurprisingly, due to the abundance of glass, the home gets incredible light. There's even a glass panel just above the bed, so you can feel free to wake to the morning light and fall asleep while you gaze at the stars. Scenic, no?
Interestingly, the Mobile Home is technically considered a product, not real estate. It also comes on a sliding platform, so if you decide to move, you can easily transport it to wherever you'd headed, whether it's another town, city, forest, or what-have-you.