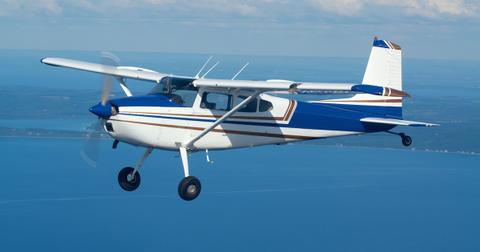 A Vintage Commercial Airplane Is Getting The Electric Treatment Thanks To Tech Startup
By Sophie Hirsh
When most people hear the phrase "electric airplane," they probably think of a new, state-of-the-art, and possibly even futuristic aircraft. But vintage is in right now, and one startup has discovered that using secondhand planes may actually be the key to powering a commercial flight electrically. As reported by Fast Company, California-based tech startup Ampaire is currently working on transforming a commercial Cessna airplane into an electric vehicle. If all goes according to plan, the plane will be the first electric aircraft to fly commercially, hopefully in 2021.
While several other tech and aviation companies are also working on building electric airplanes for commercial flights, Ampaire's decision to upcycle an already existing vehicle gives the startup several advantages. For one thing, updating the Cessna airplane as opposed to building one from scratch is more eco-friendly, as it will save the resources that would have been needed to build a new aircraft.
Plus, by saving those resources, Ampaire will save money, giving the company more financial resources to work on future planes. But most importantly, using an existing airplane will save Ampaire time, which is what might help the company become the very first to commercially fly an electric plane.
More From Green Matters
.

News

Greta made a simple yet bold move.

.

Community

"The point is to take actual action. To do your bit."